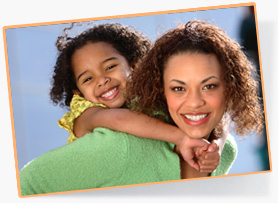 A nanny is a caregiver who comes to your home and cares for your children. When you hire a nanny, your children will receive one-on-one attention from an experienced caregiver in their own home environment.
We've listed below the different types of nannies and the placements that TLC for Kids offers.
Live-Out
The live-out caregiver typically comes to your home for a 9-10-hour day, 8 a.m. to 5 or 6 p.m., five days a week. You and your live-out caregiver will arrange a set weekly schedule, with weekend care arranged separately. It is the responsibility of the nanny to provide her own transportation to and from your home. The beauty of this arrangement is that your nanny will have a life of her own when she leaves her job. This allows her to relax and rejuvenate before her morning return. The live-out nanny may cost a little more, but she is generally more independent and fulfilled with her personal life outside of the job. Live-out nannies consist of full-time, part-time, after-school and summer nannies!
Live-In
Live-in caregivers are generally on duty 10-12 hours, day five days a week, and an occasional evening. They eat meals with the family and share in the cooking and cleaning up duties. Be assured that nannies will expect most nights and weekends off unless previously arranged. Most live in nannies require a private living space, use of the family's car, and specific hours on and off duty. You will also need to discuss visitors for the nanny and any quiet times or a curfew. Both you and your nanny may have to make concessions. It is your house and you have the right to set reasonable rules. Live in nannies can help out with emergency babysitting and depending on your personal preference can become a big part of the family. Keep in mind that your nanny does have a life beyond your job and she is not at your beck and call. While it may seem convenient and less expensive to hire a live in nanny it is harder to keep the relationship professional. It may be difficult to spending so much time together under one roof.
Shared Care
A less talked-about yet more economical alternative is shared care. This situation involves one nanny and two neighboring families. The nanny works in one home and might spend part of the day at the other home. The nanny cares for both families' children in one home. Before you and your friend or neighbor decide to share a nanny, discuss and agree upon a philosophy for child care. You need to discuss exactly what each of you will want the caregiver to do on a day-to-day basis. And realize when hiring this nanny that she must be able to handle all types of personalities in order to please two families at once.
Family Assistant
A growing area of care is the nanny manager / family assistant. These are nannies caring typically for older children who still require care, but are in school full-time. Family assistants take on tasks helping around the house, errands, meeting with vendors, scheduling appointments, meal prep and more. They do not provide cleaning other than maintaining work areas, or in between regular visits of a cleaning person.
The professionals at TLC Family Care personally assist nannies, babysitters and families in St. Louis, Atlanta, Chicago, Nashville, Memphis, Charlotte, Miami and Orlando to find the right childcare arrangement. Our mission is to provide a safe and personalized approach for families and caregivers to connect with each other that is not an internet search. TLC has worked with families, nannies, sitters, newborn care providers, and tutors for over 35 years and looks forward to working with you! To find great nanny and babysitting jobs visit us at tlc@tlcforkids.com or Call 314-725-5660.