Hiring a Household Manager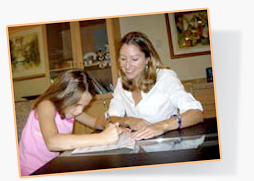 TLC for Kids has been helping families find quality childcare for over 30 years. Did you know that we also place Household Managers and Personal Assistants?
When kids are old enough to go to school often times families still need before and after school care. Household Managers or Personal Assistants can fit this need. The employee arrives in the morning to help get kids ready for and off to school. Then during the day they are free to do things around the house.
A Household Manager or Personal Assistant has a wide range of job responsibilities that include cleaning and organizing the house, doing laundry, scheduling household repairs and maintenance services, maintaining the families schedule and running errands.
In the afternoon the Household Manager will pick up the kids from school and switch to kid-related responsibilities. These include going through book bags and reading all important school work, helping with homework and projects, transporting to after school activities, and helping with dinner.
On sick days, holiday breaks and school holidays the full-time Assistant is free to watch the kids.
A Household Manager keeps your family and home running smoothly.
To learn more about hiring a TLC Household Manager or Personal Assistant visit our website TLC for Kids or call (314) 725-5660 in St. Louis or (305) 256-5905 in Florida.
TLC For Kids, Inc. has been St. Louis' premier nanny and babysitting agency for over 30 years. TLC For Kids' dedicated staff is ready to assist you in finding nannies, tutors, newborn care specialists, sitters and more in Atlanta, Charlotte, Chicago, Ft. Lauderdale, Jacksonville, Miami, Orlando, Palm Beach, Sarasota, St. Louis, Tampa and more!. Reach us at tlc@tlcforkids.com or 314-725-5660.