The Best Apps for Nannies
There is an app for that! New technology and apps aren't just for fun –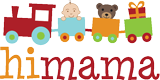 some new developments are incredibly useful for families and nannies. Here are just a few favorites from TLC for Kids:
HiMaMa helps parents keep track of important moments they might otherwise miss. Nannies and parents alike can take pictures or videos and share them with each other, and with anyone else in their child's life. It's like a private Facebook just for keeping track of the child's special experiences! If a family has relatives who don't live nearby and like to get updates, or if they miss their child when the nanny is on-duty, this app is a great way to stay connected.
Cozi will keep you on track when the family becomes just too hectic to keep track of. This app is an easy and free family organizer which allows you to record and share schedules, activities, chores, and more. When a family and nanny share this app, they'll not only stay on top of everything that's going on but will be better aware of what's going on in a child's life that may affect their behavior or needs.
Babysitting Pro allows nannies to calculate and record pay, set notifications for tasks they need to complete, and update parents about their children's activity with notifications and daily summaries. This must-have childcare app streamlines the process of communication between caregivers and parents, so that everyone is on the same page about the children's needs and nothing falls through the cracks!
Do you have a favorite app you use for nanny and babysitting jobs? Tell us about it and we can add it to our list!