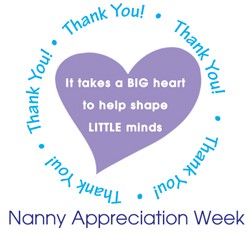 September 20th to the 26th is Nanny Appreciation Week. Don't forget to take a minute to celebrate your nanny next week. Here are just a few ways to show your appreciation:
1. Write up a list with the kids of all the things she does that you are thankful for.
2. Make a home made gift. You can use ideas from Pinterest.
3. Have the kids surprise your nanny with breakfast when she arrives. Or, give a live-in nanny breakfast in bed.
4. Sponsor her a membership to the International Nanny Association.
5. Create a family video letting her know how much she was appreciate her. You can sing a song, read a story or do a family skit. Share the video on social media!
6. Buy her tickets to see her favorite sports team, concert or musical.
7. Take a picture of her and the kids and give it to her in a nice frame.
8. Treat her to a new purse so she can carry around all the things she needs to take care of the kids.
9. Send her a bouquet, either from a flower company or Edible arrangements.
10. Give her a special bonus or gift card.