There's a very good reason why we often refer to two-year-olds as the "terrible twos." They are discovering themselves. They discover that it is possible for them to make their own choices about food, clothes, sleep, and play. The two-year-old is aware of becoming a separate and distinct human being.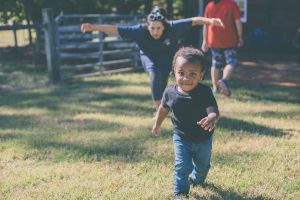 The good news is that the terrible twos only last for about a year, and even better news is that they are followed by the terrific threes.
Indications to parents that there could be a problem in normal development are if the child becomes either too easily adaptable or too aggressive. Both extremes indicate problems and should be discussed with the child's pediatrician.
There are five general areas of development: physical, intellectual, social, emotional, and moral. There is, of course, no specified or RIGHT order in which children develop. Remember that each child is an individual, and the following is only a general outline of the development expected of two- and three-year-olds.
Physical development:
* Coordination improves and physical activities include: running, climbing, kicking and throwing a ball, pulling and pushing objects, etc.
* He handles and manipulates small objects like buttons, zippers, pencils, etc.
* He feeds himself with a spoon.
* He helps to dress himself.
* He can build a block tower of six or seven blocks.
* Will gain control of bowels and bladder.
Intellectual development:
* He is very curious and explores the world using all five senses.
* He can make sentences of three or four words.
* He can sing simple songs.
* He can keep simple rhythms.
Social development:
* He is still wary of strangers and clings to his mother.
* Attempts to imitate adult activities like washing dishes, mopping floors, applying makeup, shaving, etc.
* He can participate in simple group activities like listening to a short story.
Emotional development:
* Begins to assert himself and says "no" frequently.
* Shows emotions by laughing, squealing, throwing temper tantrums and crying hysterically.
* Develops fear of such things as animals and loud noises.
Moral development:
* He wants to "be good."
* He still can't keep promises.
Children who are between the ages of one year and three years are referred to as a group as "toddlers," but there is a great deal of difference between a one-year-old and a three-year-old. Here we'll just discuss onesies and twosies.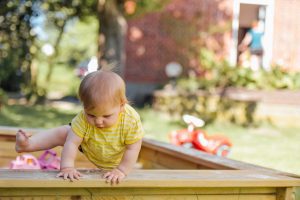 The main job of a one-year-old as he progresses to being a two-year-old is to establish self-awareness, develop speech, become responsive to others, and begin to get the basics of self-control.
When a child is between the ages of one and two, parents can begin to take note of indications of developmental problems. Excessive adaptability problems become apparent; withdrawal, passivity, fearfulness; obsessive head banging, finger sucking, rocking; lack of interest; and being overly rebellious. If any of these extreme behaviors are noted by parents, they should be discussed with the pediatrician.
Physical development between one and two years includes: * Learning to walk * Learning to climb * Pushing and pulling objects * Stacking one object on top of another * Removing clothing
Intellectual development between one and two years includes: * Begins to explore the world around him * Used all five senses to learn about his world * Begins to learn and say names of simple objects * Can form simple one- or two-word sentences * Begins to enjoy and maybe imitate simple melodies and rhythms
Social development between one and two years includes: * Becoming possessive of his own possessions * Enjoying interaction with familiar people * Waves bye-bye and begins to accept separation
Emotional development between one and two years includes: * Begins to develop trust * Throws temper tantrums * Is usually happy but can become angry * May become frustrated
Morals begin to develop at about age two and are indicated by the child becoming sensitive to and seeking the approval of the adults in his world.
TLC For Kids, Inc. has been St. Louis' premier nanny and babysitting agency for over 30 years. TLC For Kids' dedicated staff is ready to assist you in finding nannies, tutors, newborn care specialists, sitters and more.  Reach us at tlc@tlcforkids.com or 314-725-5660.