Posts Tagged 'TLC for Kids babysitters'
It is common for kids, especially preschoolers, to suffer from separation anxiety. Separation anxiety is  hard on both the child and the parents.  Trust me  I know, I have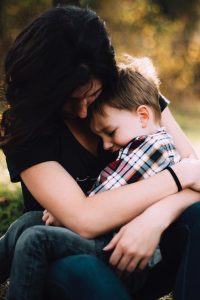 lived through it.  Whether it was taking my children to school, a birthday party or a leaving them with a babysitter they cried.  Leaving them was hard but leaving them when they are crying was even harder.  Thankfully, I don't have these problems anymore.   Now when I leave them with a TLC  babysitter they wave goodbye with a smile on their face and start playing.
Here are some tips from  Dr. Laura Horsch , a child psychologist in Menlo Park, California on helping your kids deal with separation anxiety.
1.   It's important for parents to keep their morning goodbyes consistent and short. "Lingering in response to crying or tantruming may inadvertently reinforce those behaviors," explains Horsch.  The rule of thumb in such situations is to strive for a short goodbye process.
2. "Parents are encouraged to prepare their children for what to expect, acknowledge their child's feelings, engage their child in a goodbye ritual (for example, hug, wave, etc.), and reassure their child that they will return," she says.
3.  And it's crucial for parents to talk openly with their children about their feelings. Read a book about kids going off to school or Mommy going to work and then discuss with your child. And remind them that Mommy or Daddy will always come back to get them.
Horsch reminds parents that being tearful before mom or dad leave is common and natural. "Remember that these challenges are likely a normative part of healthy child development. These experiences are part of a child's building resilience and emotion regulation."
And she adds that there is almost always a silver lining: "Most children calm down quickly and enjoy their day shortly after their parents' departure."
To read the complete article and interview with Dr. Horsch click here.
TLC For Kids, Inc. has been St. Louis' premier nanny and babysitting agency for over 30 years. TLC For Kids' dedicated staff is ready to assist you in finding nannies, tutors, newborn care specialists, sitters and more.  We serve St. Louis, Atlanta and Florida. Reach us at tlc@tlcforkids.com or 314-725-5660
What makes certain TLC for Kids sitters get requested more than others?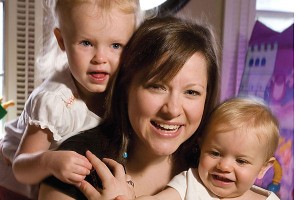 Obviously, you have to get your foot in the door by working for a couple of families before any of them will request you specifically the next time they call. What is it that makes a family remember a great babysitter and ask for you by name?
THE KIDS LOVE YOU. Kids who are old enough to speak will ask for you by name. I literally can hear kids screaming in the background when a couple of clients call. The mom will ask, "who do you want?" and the kids will yell the names of their favorite babysitters.  Mom and Dad will surely be more comfortable about leaving if they see a toddler take your hand to show you their favorite toys. It is very important to break the ice with the kids when you arrive, and keep up the fun while the parents are gone!
THE HOUSE IS PICKED UP WHEN THEY GET HOME. It isn't always possible, due to time constraints, but do try to put in the extra effort. Parents love coming home to a tidy kitchen at the end of an evening out. We're talking about 10 minutes to load the dishwasher, wipe down counters, and clean up the mac & cheese pot! I had one mom say lately that she loves a certain sitter, and her kids love her too, but it's just not worth it because her house is a disaster when she comes home. This is one of the things that sets TLC sitters apart from the teenager down the street.
THEY BRING A FUN ACTIVITY PICKED OUT SPECIALLY FOR THE KIDS. This is one of the biggest things that wins over parents. You don't have to spend a lot of money, but parents love it when you keep in mind the interests of a child and bring an art project, a special library book, or even a holiday craft or baking project in your TLC for Kids tote bag. Just be sure to OK things like this when you call to confirm, and clean up extra carefully as well! Empty-handed caregivers are NOT popular and usually get the day or evening off to a poor start.
YOU SOUND FUN AND "TOGETHER" ON THE PHONE. Remember, your initial phone call is your first chance to make a great impression! Call ON TIME (the evening you receive the job), call from a quiet area and at a time when you can concentrate 100% on the conversation. Be upbeat and perky.  Take careful notes and let the parent know you look forward to meeting their kids. I have actually had parents ask for a sitter to be replaced because she sounded "dead" on the phone! Also be prepared to answer questions about yourself and your background.
LEAVE A WHAT WE DID WHILE YOU WERE GONE SHEET. Make sure it lists all of the fun things you did! Keep careful notes if caring for an infant (feedings and diaper changes) or a sick child (food, drinks, medicine, mood, activity, and temperature.) Write a note saying you would love to come back to their house because you had a great time! Parents also love to hear funny things their kids said or did. Even better, they would love to see a cool art project that you helped with or a puzzle that you completed!
Do you have any babysitting tips and tricks that you have found get you requested back? Please share!
A lot of the children we spend time with have a stack of their favorite books. Instead of just reading their books, we can enhance the reading experience by planning activities to do that go along with their top picks.
Here are a few ideas:
1.     We're Going on a Bear Hunt. You can reenact the book with the children by hiding teddy bears around the house. To dramatize the experience, let the kids use binoculars and flashlights to find the different bears. While searching for the bears, encourage conversation and imaginative play by asking the children what sounds they hear and what they see. You can pretend you hear growls and see bear tracks.
2.     Chicka Chicka Boom Boom. Chicka Chicka Boom Boom is all about the alphabet. Just reading the book is a great learning activity, but you can make it even more interactive by planning a craft to go with the reading. One activity to do along with the book is simple: all you need is a baking sheet, magnetic letters, and a palm tree (you can create this yourself with construction paper). Tape the palm tree to your baking sheet. Then, with the magnetic letters, you and your kids can mimic the actions in the book.
3.     The Very Hungry Caterpillar. The Very Hungry Caterpillar gives you lots of opportunities to do color recognition (along with food recognition) and opportunities to practice counting. After you finish reading the book, you can create the very hungry caterpillar with just a few items: play dough, pipe cleaner, and sticky eyes. Look at the picture below to show you how to create the caterpillar. Now you have included sensory play and fine motor skills.