Posts Tagged 'summer safety'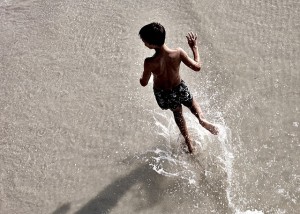 Summertime safety is a big concern for most parents, simply because many children get long breaks from school and are either home all day or with a caregiver. During the school year, it's comforting to know your child is safe in a classroom with a competent teacher, but during summer months, it can be difficult not to worry. When your child has special needs, that worry is magnified tenfold.
It takes a little planning, but it is possible to have a relatively stress-free summer along with your child. With some preparation, communication, and careful planning, you can figure out a way for your child to be safe and have fun at the same time. Here are some of the best tips.
Summer Nanny
If your child will be with a nanny during the day, it's important to maintain communication with them at all times and let them know what to expect at the beginning of each day. If they'll be taking your child outside the home–to a park or playground, for instance–you might consider making a visit there first to check out the equipment and to see what sort of surfaces there are. Playgrounds with mulch are much preferable to those with gravel or concrete.
Keep a contact list for the nanny with detailed instructions on what they need to tell a first responder about your child's medical needs should an accident occur. This includes any allergies, your child's official diagnosis, and any medications they are taking.
Make sure to communicate to the nanny that being well-rested is important when they are spending time with your child. The benefits of a good night's sleep are invaluable, whereas too little sleep could negatively affect their ability to function rationally and quickly.
Outdoor safety
Teaching your child how to be safe outside is imperative for summer months, and this includes water and pedestrian safety. Educating them about crosswalks, how to look both ways for vehicles, holding hands before crossing, and staying away from parked cars will go a long way in giving you peace of mind when they aren't with you.
For water safety, consider enrolling your child in a swim class. Many children on the autism spectrum love the feel of water, so it's especially important to teach your child how to stay safe when swimming. Always drain kids' pools after use and consider installing motion sensors near in-ground or large above-ground pools if you have a child who wanders.
Always have your child use a helmet and knee/elbow pads when they are using any equipment that moves, such as a bike, scooter, or roller skates. Make sure the helmet and pads fit well and are in good shape.
Watch the heat index
Many children with special needs have a decreased tolerance for heat, so it's important to follow the weather reports and prepare. Dehydration can occur quickly and with little warning, but some signs to look for are headache, nausea, cramps, dry mouth, irritability, fatigue, and few trips to the bathroom. Urine will be dark in color. If your child has any of these symptoms, get them into a cool, shady spot immediately and give them water to drink. A cool washcloth on the back of the neck can help if one is available.
Summer can bring lots of things to think about, but with a little bit of planning and good communication, you can make it a fun time for everyone involved.
TLC for Kids has caregivers who have experience working with children who have special needs.    To learn more about TLC for Kids visit the website at tlcforkids.com
Thank you to our guest writer Sean Morris!
Sean Morris is a former social worker turned stay-at-home dad. He knows what it's like to juggle family and career. He did it for years until deciding to become a stay-at-home dad after the birth of his son. Though he loved his career in social work, he has found this additional time with his kids to be the most rewarding experience of his life. He began writing for LearnFit.org to share his experiences and to help guide anyone struggling to find the best path for their life, career, and/or family.
The professionals at TLC Family Care personally assist nannies, babysitters and families in St. Louis, Atlanta, Chicago, Nashville, Memphis, Charlotte, Miami and Orlando to find the right childcare arrangement. Our mission is to provide a safe and personalized  approach for families and caregivers to connect with each other that is not an internet search. TLC has worked with families, nannies, sitters, newborn care providers, and tutors for over 35 years and looks forward to working with you! To find great nanny and babysitting jobs visit us at tlc@tlcforkids.com or Call 314-725-5660.
Our last blog focused on preventing sunburns this summer.  However, sunburns aren't the only thing you need to worry about this summer.  Spending time outdoors also increases chances for bug bites and bumps and bruises.  Take a look at these preventive steps to help ensure you and your nanny are safe and healthy during the summer months.
Playing Outdoors
Children of all ages are excited to play outside. While each state has safety regulations of its own for outdoor play areas, there are few important things to check:
1)    Is there mulch, sand, or rubber matting under the play structure?
2)    Is the play area/equipment age appropriate?
3)    Is the play are fenced in?
4)    Should your babysitter check the play area daily for hazards?
Bug Safety
The American Academy of Pediatrics has a few tips for protecting your child from the pesky bugs during the summer:
1)    Avoid scented soaps, perfumes, or hair sprays on your child.
2)    Avoid areas where insects nest or congregate, such as stagnant pools of water, uncovered foods, and gardens where flowers are in bloom.
3)    Avoid combinations of sunscreen and bug spray. Sunscreen needs to be reapplied, and bug spray should not be reapplied.
4)    Talk to your babysitter about how to properly remove stingers, ticks, and treat potential bites. It is important your sitter knows about any allergic reactions your child might have if stung by a mosquito or a bee. These bug emergencies may require medical attention such as administering an antihistamine, topical cream, or, if severe enough, an injectable medication such as an EpiPen or Ana-Kit. For children, these can typically be administered with the help of an adult. But do not take this for granted. You need to be aware of your state requirements allowing providers to administer medication. These regulations will determine whether or not your provider will be able to assist your child in the event of an allergic reaction. While allergies and risk of reaction might be seasonal, regulations allowing a provider to administer medication typically do not change as frequently. Keep this in mind when selecting a childcare provider.
5)    DEET is considered to be very effective in repelling ticks and mosquitoes. Keep in mind there are differing levels of DEET, available in a variety of products. Higher levels of DEET are suggested for infants (older than 2 months) and young children.
Emergency Weather Planning
Weather is often unpredictable. To ease the stress of you, your child, and your nanny, it is important to have an emergency preparedness plan in place if a weather emergency arises. Here are a few key things to discuss:
1)     Make sure your sitter knows the safest place to take the kids in case severe weather does arise.
2)    How will you and your nanny communicate during the emergency? Be sure to always have updated emergency contact information on hand for your nanny and yourself.
3)    Do you have a disaster kit readily available? The kit should include supplies to last up to 72 hours. If you do not have one, work with your nanny to make one.
Communicating with your nanny about these topics will allow for your child to not only have a fun summer, but a safe summer!   
May is National Bike Safety Month and as summer approaches, millions of children and adults will climb onto their bikes to enjoy a favorite warm weather pastime. To help curb bike injuries and fatalities, TLC for Kids is sharing this information from AAA, NHTSA, and Safe Kids USA.
Consider this: each year about 100 children are killed while riding and more than 250,000 kids are injured. We know that our strongest line of defense is safe, knowledgeable riding and consistent use of helmets, which can reduce the risk of severe brain injuries by 88 percent.
"When it comes to bicycling, safety is always the top priority. Because parents and caregivers are role models for children, it is especially critical they teach by example. That means wearing proper helmets and observing all the rules of the road," said U.S. Transportation Secretary Ray LaHood.
AAA and NHTSA recommend these four easy steps to help keep bicyclists of all ages safe:
Wear a Properly-Fitted Bicycle Helmet.
~Wear your helmet properly, level on your head and low on your forehead, no more than two finger widths above your eyebrow.
~Develop a family rule for helmet use and enforce it for every ride.
~Allow your child pick out his or her own helmet—they're more likely to wear it.
Always Follow the Rules of the Road.
~Bicycles are considered vehicles and must abide by the same traffic laws as motorists.
~Obey all traffic signs and signal your intentions when turning or passing.
~Always ride in the same direction as traffic, keeping to the right.
~Wear bright colors during daylight hours.
~Wear reflective materials on clothing and/or equipment in low-light conditions.
~Use white front lights, red rear reflectors and reflective material on clothing and/or equipment when riding at night. Parents should discourage children from riding at night.
Drive Respectfully and Share the Road
~Focus exclusively on the road while driving. Distracted drivers can be deadly for bicyclists.
~Be patient and pass bicyclists only when safe to do so, leaving a 3 to 5 foot clearance between your vehicle and the bicyclist.
For information on bicycle safety, please visit SharetheRoad.AAA.com and NHTSA.gov/Bicycles
You'll find more bicycle safety tips at http://www.safekids.org/blog/remembering-my-childhood-1.html.  And you can watch a video on fitting a helmet correctly.