Posts Tagged 'summer nanny Miami'
It is a proven fact that kids lose a lot of what they learned during school over the summer.  Parents and nannies can do some things over the summer to keep children's brains active and learning!
1. Visit your local library.  Most libraries have summer reading programs, kids activities and story hours.   You and the kids can check out travel books to help plan a summer vacation,  how-to-books on planting a garden, or books about their favorite hobby.
2.  One way to keep the math skills fresh is to play with money.  Let your kids' earn an allowance this summer.  While they are saving and counting their money they are keeping math skills fresh.
3. Plan a trip to a museum.  Learning can happen anywhere.  A trip to the art museum, zoo, or science center can also be a learning opportunity.
4. Get in the kitchen.  Cooking with your children is a great way to learn a practical skill and fractions!
5.  Go local.  So many communities offer free summer concerts, festivals and speakers.  Get out and enjoy what your community has to offer.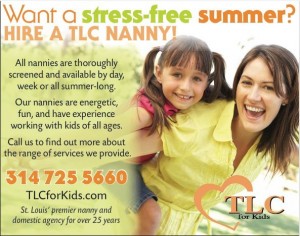 Our staff is busy this spring break interviewing college students who want to be summer nannies!
Summer nannies from TLC will make this summer fun.  Your kids will love going to the pool, museums, the park and any other attractions.
TLC is happy to offer an early bird special to all clients who turn in an application by April 30th.
You can save $100 off the Application Fee and $50 off the Placement Fee so hurry over to the TLC website and apply now!!