Posts Tagged 'St. Louis tutors'
Ever heard the saying, "it takes a village to raise a child?" With the kids out of school and home all day, it is normal to need extra help. Luckily, you don't have to stress;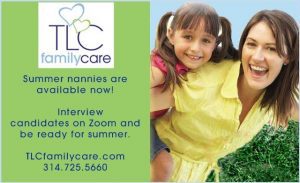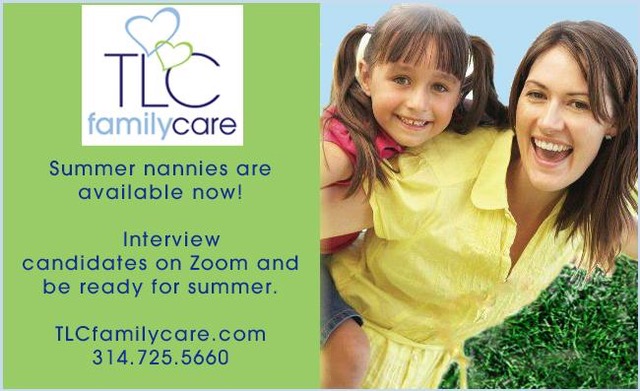 TLC for Kids has childcare providers for every occasion.
1. Summer Nannies: Do you need some extra help this summer?  TLC has summer nannies that can work almost any schedule. Our nannies are energetic, fun and have experience working with kids of all ages.
2. Tutor: During the summer, it is easy for kids to lose some of the information they learned during the school year. Schedules get filled with t-ball practice, play dates, and swimming lessons. But it is important to review math facts, spelling words, and read during the summer months, so your child returns to school prepared to learn. At TLC for Kids, you can find a sitter with a degree in education to assist you in meeting your child's educational needs.
3. Chauffeur: Camps, swimming/piano/pitching lessons, practices and recitals happen all throughout the summer. However, it can be hard to make it on time to all of these events—especially if you work full time or have more than one child participating (or maybe you are sick). To take stress off yourself, and remain punctual, TLC offers sitters with reliable and insured forms of transportation to take your child to and from events.
4. Household Helper: Not only does TLC provide families with CPR certified, background checked sitters, their nannies are also able to help with household duties. When the kids are home from school all day, the house gets messier quicker than normal. You can hire a TLC sitter to help you with laundry, light household cleaning, dishes, grocery shopping, and organizing.
5. Pet and House Sitter: Lots of families go on vacations during the summer. But not every vacation is inviting for your furry friends. Instead of taking your family pet to a pet daycare, have a sitter come to your home. Your pet will receive the same attention as if you were home with them. Summer is also the time of year when robberies and break-ins rise, so having a TLC sitter stay at your house will keep your home safe and allow you to enjoy your vacation without worrying.
6. Party Helper: Summer is the best time of year for barbeques, birthday parties, and more. But taking care of the cooking, cleaning, and watching after the kids can be a little hectic. Fortunately, TLC offers party helpers to meet your event hosting needs. TLC has party helpers that have doubled as servers, bartenders, cooks, and sitters that have brought activities for the kids at the party while the parents enjoyed themselves. If you are hosting a large gathering, don't worry; you can hire as many TLC sitters as you need. 
Call TLC's office or visit the website to book your sitter today.  
To assist with the current crisis, TLC is temporarily offering FREE MEMBERSHIP and DISCOUNTED AGENCY FEES to all Medical Professionals and First Responders. We know you cannot work at home and want to help you ensure you have solid care arrangements for your loved ones. Call TLC at 314.725.5660 to learn more and get started.
TLC For Kids, Inc. has been St. Louis' premier nanny and babysitting agency for over 30 years. TLC For Kids' dedicated staff is ready to assist you in finding nannies, tutors, newborn care specialists, sitters and more in Atlanta, Charlotte, Chicago, Ft. Lauderdale, Jacksonville, Miami, Orlando, Palm Beach, Sarasota, St. Louis, Tampa and more!. Reach us at tlc@tlcforkids.com or 314-725-5660.
There are many families that seem to be fixated on the television. While this fixation may not be active on the part of the parents, it may seem for them to be almost easier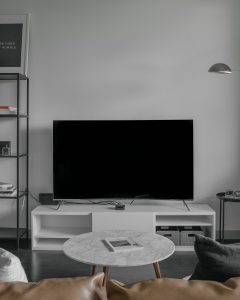 letting their children watch television than figuring out how to connect with them. Sometimes, parents may even try to connect with their children through watching a television show with the child. Still, the most effective ways in which a parent can reconnect with their child or children is by first making the point to turn the TV off.
One of the simplest ways to enjoy family time together is to try having dinner together. Some families prefer to have dinner together every night of the week, while others strive for just two or three nighttime meals together. Again, the important thing here will be to make sure that the television is not on during these meals. While eating, it is important not to sit in silence. It is very likely that almost all parents and their children will find this uncomfortable. Instead, try to talk about each other's days. Parents can share with their children things such as when they plan to go grocery shopping, and they can also ask their children what lunch meats or snacks they would prefer to have for the upcoming week or so. Children can be encouraged to share what they enjoyed most about their days and what they learned throughout their day. Remember – keep the television off!
Board games are also a great way to connect with one's children. Not only do board games help parents to see their children in action, it also showcases the child's nature or personality. Are they strategic? Are they ruthless? Are they competitive? Are they just in it for the fun of the game? These are all great questions that will give parents insight into their children and their behaviors. A board game is inexpensive for the most part and families can come together once or twice a week for a bonding experience. This is also particularly interesting for families that choose to play games that require the family to team up and bond in that specific manner. However, it will be important to try to shy away from board games that utilize the television, since this may lead back to the familiar or easier television watching days. Pictionary, Charades, Guesstures, Chess and Trouble are all great games. There are many games at stores that families can consider as well.
If time allows on the weekends or on nice, mild weathered days, parks and playgrounds can be considered. Parks are often fun whether children are small enough to enjoy the swings and see-saws, or whether the family wants to spend time walking around, perhaps playing with the family dog. It also helps the family to get some exercise together, which is always nice! While the television is great for getting news and staying up to date on current events outside the home, it often does not allow for much bonding or quality time within the home. By simply turning off the television, parents can take a proactive step towards getting to know their children again and spending quality time with them. It will also be important for families to look at their own individual situations when considering activities. Active families may find more outdoor activities or sports to take part in while more secluded families prefer to stay in and play board games. If one idea is not working for your family, feel free to try another until you become more comfortable as a whole!
TLC For Kids, Inc. has been St. Louis' premier nanny and babysitting agency for over 30 years. TLC For Kids' dedicated staff is ready to assist you in finding nannies, tutors, newborn care specialists, sitters and more.  We serve St. Louis, Atlanta and Florida. Reach us at tlc@tlcforkids.com or 314-725-5660
Looking for in-home tutors?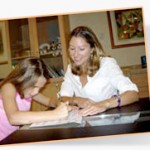 The end of the first quarter at school is quickly approaching.  Just last week my daughters came home with their progress reports.  For the record a kindergarten progress report is super cute!
If you are concerned about your child's grades or feel like a little extra help will be beneficial give us a call.  TLC for Kids has experienced tutors.  Our tutors, like our sitters, have gone through our thorough screening.   TLC tutors will come to you and provide one-on-one instructional help.
TLC Tutors:
• Provide instruction in reading, writing, mathematics, history, science, foreign languages, music, and more.
• Use your child's school curriculum to help with homework and exam preparation.
• Provide one-on-one instruction in the comfort and security of your home.
• Give children the skills, confidence and motivation to get better grades.
• Tailor tutoring sessions for children with special needs.
To learn more and request a tutor register today!