Posts Tagged 'St. Louis sitters'
Are you looking to hire a nanny?  Using a nanny agency like TLC Family Care is a great way to find a nanny.   TLC has been assisting families and nannies for over 30 years and we want to connect you with a great nanny.  We love hearing back from our nannies and families.  This TLC family is sooo thrilled with their nanny!  And, their daughter loves playing with her nanny everyday.  Let TLC Family Care help your family, too!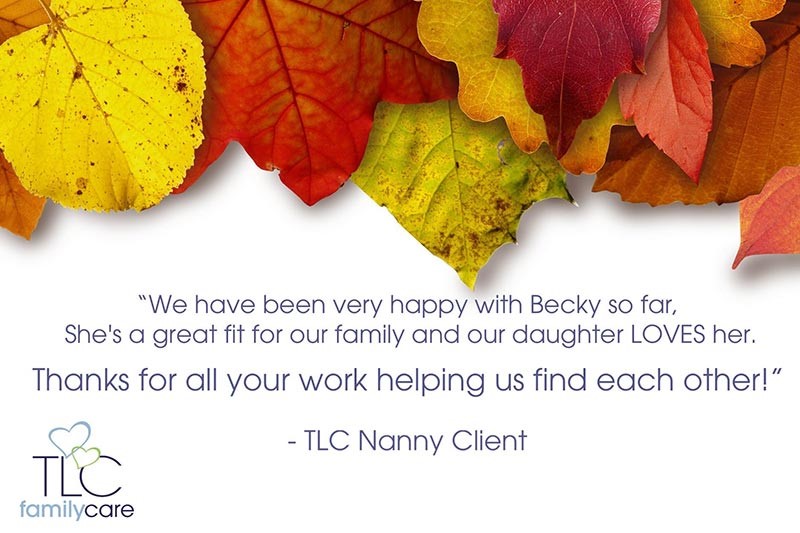 Hiring a nanny can be stressful and time consuming.  It's not easy for a family to do alone.  Let TLC Family Care do it for you!  Our placement counselor will take the time to get to know you and your family's needs.  We will present only screened and qualified nannies for your review.  TLC will set up interviews with the nannies you want to meet.  After meeting with the nannies, you make the final hiring decision.  The process is easy and designed to connect you with a great nanny.
Visit TLC Family Care to start your nanny search today.
It is finally summertime!  TLC for Kids nannies and sitters can spend their days playing outside and soaking in the sun!  I have seen so many great outdoor ideas for things to do this summer on Pinterest.  Now would also be a great time to update your TLC goody bag with things to do outside like bubbles, chalk, or a kite. Just a few reminders when spending time outside this summer.
Remember to use sunscreen.  Ask mom or dad where it's kept and how they would like it used.  Also, keep little ones in the shade or under an umbrella.
TLC babysitters are not allowed to go swimming.  This doesn't mean you can't enjoy other water play ideas. With the parent's permission you can play with the sprinkler, water balloons or water guns!
Don't lock yourself out of the house.
Stay hydrated.  Make sure everyone is drinking plenty of water while playing outside.
Remember TLC for Kids sitters in South Florida and St. Louis are experienced and screened and ready to come play with your kids this summer!
TLC for Kids was recently honored for our exceptional back-up care program! TLC has partnered with Bright Horizon's to provide back up care for families in Florida and Missouri.  We are love being able to assist working families with their care needs and are honored to receive this recognition.  Recently TLC owners Sharon Graff-Radell and Stephanie Graff sat down with Bright Horizon's to discuss what makes TLC stand out from other agencies.  You can read excerpts from the interview here.
TLC for Kids is a St. Louis-based organization with an expansion office located in South Florida. Co-owners Sharon Radall and Stephanie Graff are sisters who fully understand the difficulties of balancing work life and a growing family and who do everything they can to support the clients in their care.

TLC was chosen as this quarter's agency spotlight because of its well-established relationship and rapport with office staff, and because of their caregivers who are singularly focused on making a great impression on families.

That focus, say the owners, begins with the hiring and training process. Prospective caregivers are asked careful questions about past caregiving experiences. They also receive detailed orientation and training, which includes best practices on engagement, expectations, and communication. Orientation is also an opportunity to review the required introductory phone call and the importance behind it, and to discuss how a caregiver can effectively interact with the family upon arrival, at day's end (a "what we did for the day" note is essential), and throughout the day. During this time, caregivers also get activity goody bags that they're required to bring to care sessions.

Maintaining engagement requires commitment from everyone. The office does its part by offering ongoing education, monthly newsletters covering hot topics, and occasional meetings and events designed to give the caregivers a platform to be heard. Such efforts help TLC develop their caregiver pools and strengthen the loyalty and commitment shown by everyone who works for them.

Stephanie and Sharon believe we are all a team striving towards quality care, "The caregivers are at the heart of what we do. TLC for Kids believes that caregivers need to feel important and hear feedback both positive and constructive. Good caregivers are a key component to success and should not be taken for granted."
The TLC for Kids staff provides care for children, newborns and the elderly. All of our sitters are thoroughly screened and are trained to provide the highest quality care in the state. TLC for Kids is currently hiring in our South Florida and Tampa offices and in St. Louis, Missouri. If you are a nurturing caretaker looking for a rewarding job in Tampa, Miami or St. Louis caring for others visit our website at tlcforkids.com