Posts Tagged 'St. Louis jobs'
Calling all nannies! Looking for part-time work? TLC for Kids is working with a number of families in need of after school childcare. Only looking for 2 or 3 days a week? We have that too! Check out our list below and contact us at Jennifer@tlcforkids.com or 314-725-5660.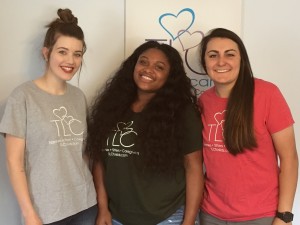 Click on job openings to see more of our available nanny jobs!
Family S has three kids and lives in Webster Groves. They need help on Tues/Thurs from 7:30a-8:00p. $12-$14/hr
Family P has 3 active kids and lives in Ladue. Will need after school help three or four days a week. Days and hours will be flexible. $13-$15/hr
Family E lives in Webster Groves and needs care Mon-Fri from 3:30p-5:30. Two Teenagers need transportation to lessons and practices. $15-$16/hr
Family Z lives in Clayton and needs care Mon-Fri 3:00-6:30p. Family has two kids and will pay $15/hr
Family ST lives in Clayton and needs help M/T/W/F from 12:00-5:00p. Care will be for two kids. $12-$15/hr
Family C lives in Ladue and needs a nanny to care for a 1.5 yr old and baby on the way. Care T/Th from 8:00a-7:00p and ideally one weekend night a month. $13/hr
Family B has two kinds and lives in Ballwin. They need T/W/F from 3:00p-6:00p. Could add a 4th day if nanny is interested. $15/hr
Family D lives in Columbia, Il. They have 2 kids and need care M/Th/F from 7:30-5. $13-15/hr
Family PA lives in Wildwood with three girls and needs help Mon-Fri 3:00p-8:00p. Could have nanny come in an hour early every day to do some house organization. $15/hr
Family K has a toddler and a newborn and lives in Richmond Heights. They are looking for someone with newborn experience who can work T – 2:30-6:00 W – 10:30-6:30 Th – 8:00-4:00p. $15/hr
Family R lives in Clayton with two boys. Family needs before and after school care Mon-Fri 7a-9a and 3-6p. $14/hr
Family H has two kids and lives in Chesterfield. They need a mature and organized nanny Mon-Fri 2:00-6:00p. $15/hr
Family Pi has two kids and lives in Kirkwood. They need help Tues/Wed from 3:00-6:00p. $13-$16/hr
Family KR lives in Webster Groves and has two kids. One child does have ADHD and OD. Ideal candidate will have experience with kids who have behavior disorders. Nanny needed Mon-Fri 2:30-5:00p $13-$15/hr
Family G has three kids and lives in Ladue. They need care M/W 3:30-8 T/TH 3:30-7:30 F 3:30-7:00. Will also need two mornings a week. $13/hr
Read about all of TLC for Kids  full-time, part-time and after-school positions below.   If you are interested please contact us at Jessica@tlcforkids.com.
ALL positions pay a competitive rate and some benefits are included!
Full-Time (requires 1 year commitment)
1) Full-time live-in housekeeper/handyman couple needed ASAP in Wildwood, MO. M-F 8a-5p and must have professional housekeeping experience. Family has an apartment on their property for the nanny. No childcare duties, evenings, weekends or overnights. Pay based on experience. Starts ASAP!
2) Eureka family is seeking a full time nanny for their toddler! Nanny will work Monday through Friday, from 9am-6pm. Opportunities for extra hours are available with this job! Job starts in the beginning of April 2014!
3) Belleville, IL family seeking a full-time (M-F 8a-4p) nanny who has early childhood experience and infant experience. Position would start asap and nanny would have the option on doing a 1-3 month trial before committing to a full-year.
4) Central West End family seeking a full-time nanny to start early January! Hours are M-F 8a-6p M-F, toddler is in school a few mornings and nanny will run errands / do light housekeeping during that time. Must be very active and energetic!
5) Clayton family is seeking an energetic nanny to help take care of their one year-old twins! You will also help assist with running errands and helping with laundry. Hours are Monday, – Friday 7:30am-5:00pm! Jobs starts ASAP!
6) Fenton family seeking a nanny in mid-April for toddler and new baby. Must be available M-F 8a-6:30p.
7) Belleville, IL family seeking a nanny who is available to work very long days. M-F 5:30a-6:30p with a new baby! Pay is definitely competitive and many days the nanny will be relieved early. The position starts 4/1.
8) University City family with new baby needs an experienced, energetic nanny! Hours are M-F 8a-5:30p and job will start at the end of March!
9) Shared-Care family in Clayton seeking a new nanny to watch two babies and one toddler full-time! Nanny must be able to transport all three children in the same car — three carseats must safely fit in the nanny's car! Hours are M-F 8a-6p and position starts ASAP
Part-Time (requires 1 year commitment)
1) Part-time nanny needed for new baby and very active toddler! Hours are about 20-25/wk in the morning. For ex. 9a-1p or 8a-12p, even 10a-2p. Family is flexible and parents are seeking someone who has a lot of newborn experience! This position is located in South City and can start ASAP!
After-school – flexible commitment
1) Wildwood family is seeking energetic after school nanny to help with their three children, ages 2, 5, and 6! They need someone to help run errands, help with children's homework, and prepare meals. Hours are Monday through Friday, 3pm-8pm. Position starts ASAP!
2) Family in Ladue seeking an afternoon nanny for two children. Hours are 2:30p-6:30p M-F. Must be very loving, patient and have a great driving record. Starts ASAP!