Posts Tagged 'St. Louis house sitters'
Spring Break is a fun, and busy, time of the year! Whether you are going out of town for a warm getaway, or having a stay-cation  TLC for Kids can help you with your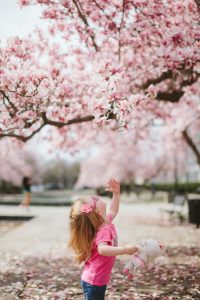 Spring Break needs.
Lots of families go on vacations for Spring Break. But not every vacation is inviting for your four-legged friends. Instead of taking your family pet to a pet daycare, have a sitter come to your home. Your pet will receive the same attention as if you were home with them. And a TLC sitter can do more than just watch your pet. They can also stay at your house to keep everything safe and allow you to enjoy your vacation without worrying.
Did you know TLC sitters are available to travel with your family on vacation? Families often fill their vacation schedules with activities for the kids. But TLC for Kids recognizes parents need a vacation for themselves, too. Bringing a TLC sitter or nanny a long gives parents the flexibility to see places they are interested in, have quiet meals at adult places, and know their kids are being cared for by someone they trust and their kids are comfortable with (remember you can request your favorite sitters anytime you need a TLC nanny).
If your kids are out of school for the week, but you still have to work, don't worry! With TLC for Kids, you can hire a nanny for the entire week. Our sitters can come to your home with activities to keep the kids entertained while they are away from school. TLC sitters also have reliable and insured forms of transportation, so the nanny can take your kids to places around the city or to and from their practices/school events.
TLC For Kids, Inc. has been St. Louis' premier nanny and babysitting agency for over 30 years. TLC For Kids' dedicated staff is ready to assist you in finding nannies, tutors, newborn care specialists, sitters and more.  We serve St. Louis, Atlanta, Chicago, Nashville, Memphis, Charlotte, and Florida. Reach us at tlc@tlcforkids.com or 314-725-5660
Summertime means summer travel for home owners.   Not surprisingly, the Federal Bureau of Investigation (FBI) reports that home burglaries peak in July and August.  Homes that look not lived in are more susceptible to burglaries.
There are few things people can do to keep there home from being broken into when traveling this summer.
The best thing you can do is hire a
house sitter
to stay in your home while you are gone.  House sitters will give your home the lived in look.  They can bring in your mail and papers, water your plants and park in your driveway.  If you have pets the sitter will also take care of all of your pets needs.
TLC For Kids
, Inc, is a childcare agency that also provides house and pet sitters in Miami and St. Louis.  "Our screened and background checked caregivers are a great match for families looking for house and pet sitters," explains Vice President Angela Lehmann.  "Clients love knowing they only need to make one call to us and it's taken care of."
Other steps you can take to keep your risk of a break-in low is to put your lights on a timer, put up a motion detector light outside, and make sure all your windows are locked before you leave.
Are you traveling this summer and need someone to watch your pets?
TLC For Kids' screened and background checked nannies also do house and pet sitting.
Our house and pet sitting service offers you a variety of options.  If you need someone to pick up the mail, bring in the papers and feed the fish once a day we can help.  Or, if you need someone to live full time in your house, be a companion for your dog, and water the plants call us.
Our service is safe, convenient, and confidential.  Our agency is bonded and insured and you can trust our sitters in your home.
Your home and your pets are in capable hands, so you can kick back, relax, and enjoy your time away from home.
If you are