Posts Tagged 'Special Needs'
April is Autism Awareness Month, and we at TLC for Kids support Autism Awareness in our communities.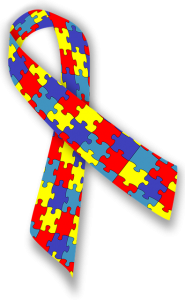 In 1943, psychiatrist Leo Kanner observed 11 children who he described as having a desire for sameness and social withdrawal. He also claimed these children had speech and language problems, particularly speech delays and echoing mechanisms.
Kanner used the word "autistic" to describe the characteristics of these children who seemed not to posses an ability to relate to people.
Today 1 in every 59 children is diagnosed with Autism, as reported by the CDC in 2019.  The St. Louis Chapter of Autism speaks says that a new case of Autism is diagnosed every 11 minutes.  Obviously there is a great need to get the word out about Autism and how we can all help.
Finding childcare for a child with Autism can sometimes be difficult.  Parents want to find a babysitter who has the the experience and the know how to work with a child with special needs.
TLC For Kids has babysitters and nannies who have experience caring for kids on all levels of the Autism Spectrum.  Our team of Special Needs providers have attended seminars on Autism, taken OT or PT classes, or are teachers and nurses with experience.   If your child has Asperger's,  or PDD-NOS we can also help.
Contact us 314-725-5660 to learn more about our Special Needs providers and reserve a sitter today.
TLC For Kids, Inc. has been St. Louis' premier nanny and babysitting agency for over 30 years. TLC For Kids' dedicated staff is ready to assist you in finding nannies, tutors, newborn care specialists, sitters and more in Atlanta, Charlotte, Chicago, Ft. Lauderdale, Jacksonville, Miami, Orlando, Palm Beach, Sarasota, St. Louis, Tampa and more!. Reach us at tlc@tlcforkids.com or 314-725-5660.
Original article appeared April 2013, updated with current statistics. 
Each time a new job is set up with a client, I am always proud of the credentials and experience of the nannies on our staff.  Each nanny is professional and truly passionate about working with children and each are responsible for making TLC for Kids, St. Louis' Premier Nanny Agency!
This inspired me to feature a few in this week's blog post.  Please give us a call if you would like to request one of these very special nannies!
TLC caregivers offer a fun, nurturing environment for your children, but their various backgrounds can offer your family so much more.
As you will see below, we have caregivers with extensive backgrounds in special education, neonatal care, multiple care, counseling, social work, sign language, physical and occupational therapy and nursing.
If you have any friends, family or colleagues who would benefit from access to caregivers with an extra specialty, please pass the word along. Please also give us a call if you want to request one of our featured caregivers.
Madeline B. is the mother of two teenage daughters and a 6th grade Elementary School teacher who has worked for TLC on the weekends and during the summers for the last 4 years. She enjoys working with children of all ages.
Ginger S. is currently a third grade teacher and has been working in the classroom for more than 10 years. She has experience working with children that have special needs, including: ADHD, Autism, Asperger's, Down's, LD, and developmental delays. She is very creative and energetic, and loves doing math and science projects with kids.
Erika A. has a degree in Elementary and Early Childhood Education and has taught for ten years. She has worked with all ages, most recently with 3-5 year olds, in a classroom setting. She loves children and enjoys watching them grow and learn. Erika loves doing fun and exciting activities with children, especially sensory activities. She also has extensive experience working with children with special needs.
Jill B. is a mother of a three year-old and has been working with children for over 15 years. Jill is certified in Sign Language and is a Licensed interpreter.
Valerie K. is a graduate of NYU and completed her Masters in Social Work at Washington University in St. Louis. She works full time as a Social Worker at Ranken Jordan Pediatric Hospital and enjoys babysitting in the evenings, on the weekend and overnight. She has been babysitting, working as a camp counselor, ABT therapist and grief counselor for a combined total of 15 years. Valerie also has experience with multiples.
Debby L. has been a Neonatal/Pediatric nurse for 23 years. She taught CPR and infant care classes for 17 years and has experience with newborn through teens. Debbie has four children of her own and two grandchildren with another on the way!
Rosanne N. is a college graduate and has been working with children for over 25 years. She has raised three children of her own and has three grandchildren. Roseanne has worked in every facet of childcare from infant room aide to private elementary school principal. She is energetic and enthusiastic. She will provide a safe, fun, nurturing environment for your child.
Kim P. is a graduate student working on her Master's in Education. She has worked for the Special School District in St. Louis, for two years in both Elementary and High schools. She is also trained in applied behavioral analysis (ABA therapy).   She has been babysitting for over 10 years and has most recently been a summer nanny for an infant.
Colleen S. is a graduate students working on her Master's in Social Work. She has worked as a full and part-time nanny and has experience with newborns through preteens.
Jenny M. is educated as a Secondary teacher. She ran a before and after school program for five years and has been babysitting over 10 years. She loves planning activities, going on outings and being creative. Jenny is currently going to Saint Louis Univeristy for a second career in Nursing.
Each temporary nanny goes through TLC for Kids extensive screening process and are on-call 24 hours per day!
Have a great week!
Thanks, Jessica