Posts Tagged 'South Florida babysitting agency'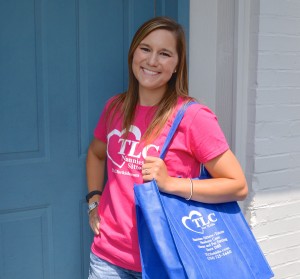 Over the last few weeks we have collected some great feedback from our clients on the TLC sitters they have used.  Nothing makes us happier than to receive such glowing reviews of a job well done!  Way to go TLC caregivers!
Here are some of the comments clients have shared with us:
"Laura has been great. She has helped in every way. She has taken care of my newborn and has also now won over by very choosy toddler. My visit to Florida would have been very difficult without someone like Laura who is willing to help with everything and who is reliable. I would like to put her in my suitcase and take her back home with me 🙂 "
" Erin was amazing! She far exceeded my expectations. I was a little worried about needing a sitter for 8 hours because that's a long time and I was afraid the sitter might get worn out or frustrated after a while. Erin was so patient with the kids and kept them entertained the entire time. The biggest surprise for me was when I walked in the room and saw my 3 yr old was already in his pajamas and sleeping, and had been sleep since 9pm! Bedtime with him is a struggle, even for me! I feel triumphant if I can get him to bed before 11pm on weekends and even that requires a battle but Erin had no problem getting him to bed. My daughter is very picky about sitters and she loved Erin. She like her so much she even left the cutest note for me to find once I got back to the room. I thought it was very nice and a reflection of Erin's great work so I attached it to the email for you to see.  My experience with TLC was amazing overall and I will definitely use the service again if the need arises!"
" Julie was wonderful. I'm actually going to be specifically requesting her on my future TLC needs."
" Courtney was a fantastic nanny. I chatted with her for a while before we left, and I felt very comfortable leaving my son with her. She was warm and friendly and has a lot of newborn experience. My son has been having issues taking a bottle, and she even got him to successfully take down a couple ounces. I would highly recommend her and I hope to get her again. She also said wonderful things about TLC and the type of training she received through your service, making me even more confident booking a nanny through TLC again. "
If you are in need of a babysitter in St. Louis, Missouri or South Florida TLC is here for you.  Our babysitters are experienced, screened and reliable.  To learn more about requesting a TLC sitter visit our website at tlcforkids.com.
Family vacations to the beach are fun for everyone.   The sun and the sand are a great way for families to relax and unwind.  Florida cities like Miami, Fort Lauderdale and Boca Raton have great beaches and fun things for the family to do during the day.  But the nightlife in Miami doesn't include kids.  Miami and Miami Beach have great restaurants and clubs for parents to see while visiting South Florida.   Why not have a date night while on vacation?
TLC for Kids Miami has professional babysitters ready to come to your hotel.   Our hotel babysitters are reliable, mature and experienced.  They arrive at the hotel ready to play with a bag of age appropriate toys for your kids.  Along the coast we service hotels like The Ritz Carlton Fort Lauderdale and The Breakers in Palm Beach.  In Miami our experienced sitters can come to The Fontainebleau and The Trump Doral among other popular Miami hotels.
To book your South Florida hotel babysitter contact us at 305-256-5905 or ask the hotel concierge to contact TLC for Kids.
Need a way to beat the summer heat? Scorching temperatures give nannies the perfect opportunity to try fun indoor activities.
Here are three ways for nannies to get creative with indoor play:
1. Make your own Play-Doh.
Children love to experiment, so giving them the chance to make their own Play-Doh is something they will love. Plus, creating your own Play-Doh only takes about ten minutes and a few kitchen staples: 1/2 cup salt, 1/2 cup water, 1 cup flour, and food dye. For instructions click here. This is a great sensory activity for children of all ages.
2. Play board games.
With technology being such an integral part of our everyday lives, it is easy for a day spent indoors to be stolen by the apps of the Ipad or DVR recordings. To avoid the technology trap, we should remind ourselves of the timeless staple that is board games. Not only do board games give parents and/or caregivers a chance to engage with the children, but they also teach kids how to follow directions, maintain good sportsmanship, and gain critical thinking skills.
3. Build a fort.
Building a fort indoors is a great idea because you already have all of the items you need in the house: blankets, sheets, pillows, chairs. The quickest way to build a fort can be done by draping a king or queen size sheet over two chairs. However, you will be surprised by the elaborate ideas your children will show you. As long as you have removed breakable and valuable items from the area, this is a simple activity that encourages imaginative play and teaches cooperation.
For more fun ideas visit the TLC for Kids Pinterest page.
TLC for Kids  has lots of great full time and part time nanny jobs available. Visit our website to learn more!