Posts Tagged 'sleep consultants'
TLC for Kids has more than just sitters to help parents and families adjust to having a new baby at home. TLC for Kids also has a certified sleep consultant on staff who helps parents get their baby or babies on a sleep schedule that works for their lifestyle.
Here are a few ways a sleep consult will help parents and babies:
1. Reduced stress levels. When you and your baby are not getting enough sleep, everyone is crankier. With a sleep consultant, you can set up a schedule and routine that fits your lifestyle and meets the needs of your growing baby. When done correctly, this will lead to less crying for your baby and more productive days for you (after all, nobody is good at their job when they were up all night with a crying baby).
2. Consistency. Humans are creatures of habit. In fact, parents who are consistent with their children are shown to raise children with lower anxiety levels. During a sleep consult, you and the consultant can talk about your daily and nightly activities and brainstorm a nighttime routine that works for your family and baby. For example, if you read a book and take a bath every night before putting your baby down to sleep, your child will associate these activities with bedtime. Putting them to sleep will become less of a hassle because they already know bedtime is coming.
3. Answer questions. A lot of times a pediatrician can tell parents how much sleep their child should be getting, but doesn't offer solutions on how to make sure their baby sleeps for the recommended amount of time. With a sleep consultant, parents have access to someone who has specialized training on baby sleep patterns. A sleep consultant is here to help get your baby to sleep, so parents won't have to wonder if what they are doing is wrong or right. With a sleep consultant, parents can evaluate their baby's sleep environment and routine (do they have blinds in the baby's room? Is there a sound machine? What did they do before bed?), and see their strengths and weaknesses.
To learn more about TLC's "Sleep Lady" Consultant and set up your consult call the TLC office today (314) 725-5660.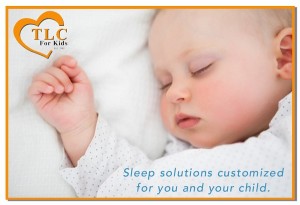 TLC For Kids is now offering sleep coaching services. TLC has teamed up with Gentle Sleep Coach Jessica Litwack, certified by Kim West, LCSW-C, aka The Sleep Lady ®. Jessica will provide TLC families with excellent guidance for dealing with sleep issues with their 4 month to 6 year olds.
Jessica Manela Litwack LCSW is a not only a Certified Gentle Sleep Coach, but also and a Certified Baby Planner through the International Maternity Institute, a mother of two young children and  the founder of the online mom support group, mamaSpace.
After learning early on with her first child that having a "good sleeper" wasn't something that was just going to happen on its own, Jessica started to look into various sleep coaching methods. The Sleep Lady philosophy, developed by Kim West, was a perfect fit for her family because of its gradual and gentle approach.  After gaining experience with her daughter, Jessica realized she wanted to support other families with sleep issues. She received training as a Certified Gentle Sleep Coach in early 2013. The Gentle Sleep Coaching Program has been helping tired parents for 17 years and is currently the most extensive and professional sleep certification program available.
The GSC approach is a gentler alternative for families who emotionally or philosophically are not comfortable letting their babies "cry it out". GSC is also for families who believe in co-sleeping but find that their children aren't really sleeping all that well, even nestled snugly with their parents. Or for families who did co-sleep for a few months to a few years and now want the family bed to revert back to the marital one.
For over 27 years TLC for Kids has been helping St. Louis families with all their child care needs.  TLC is thrilled to expand its services to offer help to tired parents, babies and young children looking to get a good night's sleep.  Jessica is currently booking clients for December and into 2014.  Please contact Jessica at 314-725-5660 or tlc@tlcforkids.com to book your consultation today.
All parents strive for a good night's sleep.  That is hard to do with a newborn baby in the house.  Most newborns will wake every 3 hours or so to eat.  After feeding, burping, diaper changes, swaddling and getting baby back to sleep parents have about an hour or two until they need to do it all again.
TLC for Kids can help.  TLC's Newborn Overnight Caregivers come into your home and take care of your baby for the night.  Our caregivers have been screened by our professional staff and have years of experience caring for newborns.  They even specialize in multiples!
Newborn overnights caregivers typically work 4 to 7 nights a week for the first few months.  They will help get your baby on a night time schedule and stay with you until your baby is sleeping through the night.
Let our overnight caregivers help you be your best for your busy day!
More information on TLC for Kids' Newborn program visit our website or call Angela at 314.725.5660.