Posts Tagged 'reading activities'
I'm often asked what age a child should be when his parents begin to read to him. The answer is, "It's never too soon to start!" The baby can "hear" in the womb. Oh, he doesn't understand words, but he does understand emotions, and he does respond to the emotion behind a sound.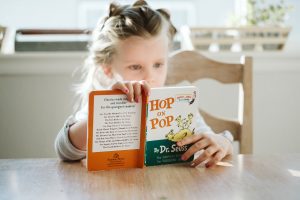 Sudden loud sounds cause a fetus to flinch. Calming sounds calm, and there is nothing more calming to an unborn baby than the sound of his mother's voice. So, yes, read to your child before he is born….what you read doesn't matter…the daily newspaper is fine as long as you read it aloud and in a soft, comforting voice.
The first books that parents should read to their child after he is born are those that feature touching and textures. Children begin to learn language and associate different senses with different words at a very early age.
As the infant becomes a toddler, the books that are read to the child can be used to help reinforce positive behaviors. There are thousands of excellent books for toddlers on the market. It is better to use books that are made of washable materials that are not easily torn until a child is old enough to learn how to treat books with care.
Reading time is a special time for children. They love the sound of their parents' voices, and they love the undivided attention that one-on-one reading provides. They also love the physical closeness — the touching and cuddling — that are part of a parent reading to a child.
The wisdom of the ages is contained in books. The earlier a child is introduced to books and the pleasure that books bring into his life, the better he will do in life. Nobody who loves to read is ever lonely if they have a book to read!
TLC For Kids, Inc. has been St. Louis' premier nanny and babysitting agency for over 30 years. TLC For Kids' dedicated staff is ready to assist you in finding nannies, tutors, newborn care specialists, sitters and more.  Reach us at tlc@tlcforkids.com or 314-725-5660.
A lot of the children we spend time with have a stack of their favorite books. Instead of just reading their books, we can enhance the reading experience by planning activities to do that go along with their top picks.
Here are a few ideas:
1.     We're Going on a Bear Hunt. You can reenact the book with the children by hiding teddy bears around the house. To dramatize the experience, let the kids use binoculars and flashlights to find the different bears. While searching for the bears, encourage conversation and imaginative play by asking the children what sounds they hear and what they see. You can pretend you hear growls and see bear tracks.
2.     Chicka Chicka Boom Boom. Chicka Chicka Boom Boom is all about the alphabet. Just reading the book is a great learning activity, but you can make it even more interactive by planning a craft to go with the reading. One activity to do along with the book is simple: all you need is a baking sheet, magnetic letters, and a palm tree (you can create this yourself with construction paper). Tape the palm tree to your baking sheet. Then, with the magnetic letters, you and your kids can mimic the actions in the book.
3.     The Very Hungry Caterpillar. The Very Hungry Caterpillar gives you lots of opportunities to do color recognition (along with food recognition) and opportunities to practice counting. After you finish reading the book, you can create the very hungry caterpillar with just a few items: play dough, pipe cleaner, and sticky eyes. Look at the picture below to show you how to create the caterpillar. Now you have included sensory play and fine motor skills.