Posts Tagged 'one to one childcare'
School years are busy.  Mornings are spent rushing to catch the bus or drive carpool.  Days are spent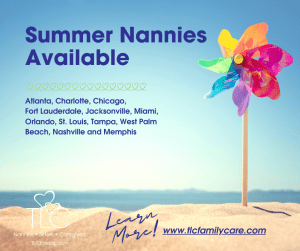 running errands, taking kids to practices, helping with homework,  and putting the kids to bed so we can do it all again tomorrow.
I can not wait for summer!  This summer the kids and I are going to relax and unwind with the help of a summer nanny. Having a summer nanny is a great idea for families with school age kids. Summer nannies provide fun, reliable, and consistent in home childcare.  No more rushing around in the morning! Having a nanny come to the house will take away the stress of the morning routine, and maybe, let us all sleep a little later 🙂
The interview is an extremely important step in the hiring process. The interview can be held, at your home, at a coffee shop, the library or park.
When interviewing a nanny, rely on your intuition and observations when evaluating the nanny's responses, mannerisms and appearance. A parent's impression of a nanny candidate can be a telling sign if the nanny is a good fit for the family.
During the interview, parents should first inquire about the nanny's background, experience, training, driving record and other skills related to working with children. Then, by asking open ended questions about the nanny's interests, after work activities, and child care philosophies, parents can better evaluate how compatible the nanny is with their family.
When describing employment expectations, parents should be specific about job duties, hours, salary, time off and other practicalities of the position. Seeing and hearing the candidate's reaction can provide valuable clues to how the nanny will feel about the position.
Parents should also observe the nanny with their children before offering the nanny the position. Take note of how the nanny interacts with the children and how the children respond to the nanny.
When deciding which nanny to hire, carefully weigh all the information gathered about each candidate. Check each nanny's references (even if they come from an agency) and interview the top candidates a second time before offering the position. Parents should listen to their intuition and remember that the nanny will be a part of their family's life. They should ask themselves, "Does this candidate seem as though she will fit in well with our family and work well with our children?"
The professionals at TLC Family Care personally assist nannies, babysitters and families in St. Louis, Atlanta, Chicago, Nashville, Memphis, Charlotte, Miami and Orlando to find the right childcare arrangement. Our mission is to provide a safe and personalized  approach for families and caregivers to connect with each other that is not an internet search. TLC has worked with families, nannies, sitters, newborn care providers, and tutors for over 35 years and looks forward to working with you! To find great nanny and babysitting jobs visit us at tlc@tlcforkids.com or Call 314-725-5660.