Posts Tagged 'nanny interviews'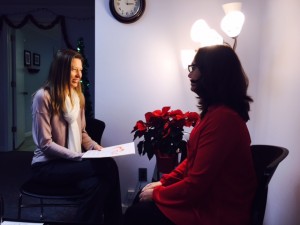 So you've gone through the TLC for Kids application process, and you're moving on to interviewing with families! Interviews can be a scary part of the process, so we've gathered a few tips on what to bring and how best to represent yourself!
 Prepare ahead of time.

Review any information you have about the family or the job before the interview, so it is fresh in your mind and you can show that you did your homework. Also look back over your resume and application, and brainstorm your answers to common or expected questions about your past experience and your nannying style.

Make a good first impression.

Be on time, dress professionally, shake hands, make eye contact, and don't forget to smile! Nannying is about connecting with the parents as well as the kids.

Bring activity ideas – from past experience or tailor-made for this family – and be ready to brainstorm more possibilities as you learn more about the kids throughout the interview

If you're interviewing in the home, ask to meet the children and spend a few minutes getting to know them. This will show the family that you are ready and excited to get started.

Parents will like to see that you thought about the job enough to have your own questions and concerns. Don't be too shy to ask about specific needs the kids have, any additional responsibilities outside of childcare, their typical daily schedule, or any other things you're curious about.

Parents lead busy, hectic lives! A written or emailed thank-you note can go a long way – especially if it emphasizes a couple of things that got you excited and made you realize how perfect this job will be for you.

Good luck!
Another month for our "Three minute Q and A with TLC nannies." Each month we are bringing  you some great Q and A with our nannies so they can share some info and insight about the nanny profession and educate others on some of the fun aspects of the job.  This month we interviewed Janet.
1) Why did you decide to become a nanny? 
The short answer is I LOVE kids!!! I've babysat since I was a teenager and have always loved hanging out with kids.  When I went to college the best choice for me was a degree in early childhood education!! I have worked in church preschool programs, in day cares and really enjoyed teaching kids about the world helping them grow and learn. Then I did respite for kids with autism and it was one on one and I really enjoyed seeing the difference I could make for that one family. And I liked  getting to know and interact with parents to support and encourage them too. In July it will be 6 years ago that I started looking for a nanny job and I got as far as putting in an application at TLC.  I was hired and had a set of twins for two years! I've done both the temp and full time permanent side of TLC.  I'm currently with another family that I got through TLC and have been with them for 2 1/2 years so far!!
2) What's your favorite thing about being nanny?
Seeing the daily changes milestones and growth of the children and being a help and support to the parents
3) What fun activity are you forward to doing with your charge(s) this week?
Swimming, the library and story time. I'm sure at some point there will be a request for Grant's Farm which is her current favorite place! We also love the zoo and going on playdates at friends' houses or the park or having friends come over  and play.
4) Where do you get your ideas for creative activities?  What's your favorite craft?
Some of them just happen.  Like yesterday we didn't have a set plan. I had thrown out a few ideas and the dad suggested a splash pad.  The little girl thought it was so fun to pull me close to the water and try to get me wet! Most of the activities for art or sensory I get from my days at working in day care and some from the internet. I can't pick one favorite craft.  Right now the little girl is really into finger painting and we like to use different things like a cotton swab or crumpled up paper or rolling a car through the paint.
5) Do you follow any blogs, websites to share with other nannies?  
I don't really follow any.  There is a nanny playgroup on FB that we would love for more people to join!  We would like to be more involved with meet up groups or something but I'm not the best at suggesting things.  I'm more of a spur of the moment, "oh, we are doing ______ if anyone wants to join us" which doesn't usually work too well.  But if someone planned or put it out there for a playdate we would come if we can!
Are you interviewing for nanny positions?  If so, chances are the family may want to  set up a phone interview.  The phone interview helps makes a large group of candidates more manageable.  Typically, phone interviews are held prior to a face-to-face interview and last about 10-15 minutes.
During a phone interview you can expect:
1. General questions like, "What drew you to our position?" or "What do you like about being a nanny?"
2.  The family will probably go through their schedule and job requirements over the phone to make sure they still fit your needs.
3.  Know the family's salary range and be prepared to tell them what you are looking for in terms of a salary.
4.  Have a list of references and their contact information handy  in case they ask.
5. Make sure you have your calendar with you so you can set up a face-to-face interview if asked.
TLC For Kids has great nanny jobs.  Apply on line today!