Posts Tagged 'Nanny in St. Louis'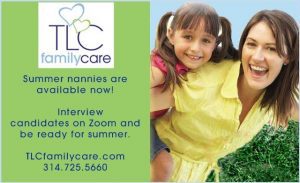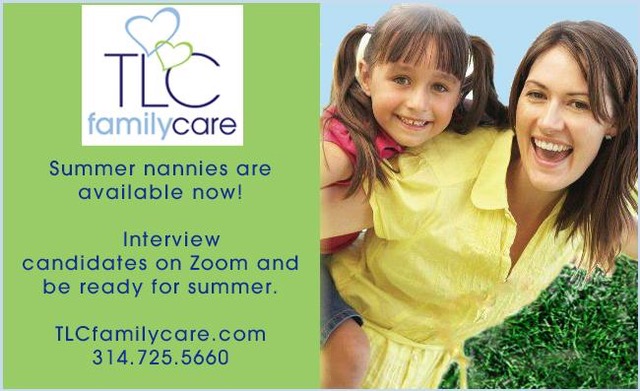 Summer is a wonderful time for kids! There's nothing like a little fun and relaxation during the warm summer months, but for working parents, it could be the opposite. Your schedule likely doesn't slow down once summer rolls around and it may even be causing you some anxiety thinking about trying to scramble to find reliable childcare while you're at work. Day camps, relying on friends and family to serve as babysitters, and taking vacation time will only go so far. TLC for Kids has the solution: hire a summer nanny. Your kids will love having a nanny to hang out with and take them places.  You will love not having to figure out childcare on a week by week basis. A stress free summer for everyone! 
Thank you to Homework Solutions for sharing this article.  Click here to read about some other benefits  of hiring a summer nanny.
To assist with the current crisis, TLC is temporarily offering FREE MEMBERSHIP and DISCOUNTED AGENCY FEES to all Medical Professionals and First Responders. We know you cannot work at home and want to help you ensure you have solid care arrangements for your loved ones. Call TLC at 314.725.5660 to learn more and get started.
TLC For Kids, Inc. has been St. Louis' premier nanny and babysitting agency for over 30 years. TLC For Kids' dedicated staff is ready to assist you in finding nannies, tutors, newborn care specialists, sitters and more in Atlanta, Charlotte, Chicago, Ft. Lauderdale, Jacksonville, Miami, Orlando, Palm Beach, Sarasota, St. Louis, Tampa and more!. Reach us at tlc@tlcforkids.com or 314-725-5660.
Thank you to all the families that participated in the Nanny of The Year contest.   Your heartfelt stories made us smile.
We will be  featuring some of our entries every day this week.  The winning entry will be posted on Friday.
Today we want to thank Christina N. for being a great nanny.  Read how much Christina's employers appreciate she does:
"Our nanny, Christina N, goes above and beyond everyday. She never misses a birthday, holiday or special occasion. She's always willing to stay late or come early if needed. She plays games, does activities and does things no other nanny would do. Such as dress up, dance, and sing to make a video, clean up pet messes, try cooking creations and so much more. She is caring, willing to help and simply amazing. Most of all she is like an older sister to us!!!!!!"
Thank you Chrisina for being a great nanny!