Through play, children develop into adults. That's just the way it works. Children develop all of the important skills of life through play. Education gives them information, play is the way they apply that information to life.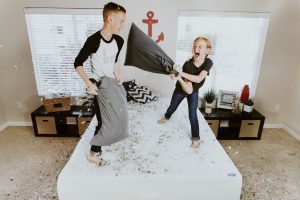 Play is not just physical, and the purpose of play is not just pleasure, although play can be both physical and pleasurable. An active play life for a child includes the testing of and enhancement of his physical abilities (learning to climb, run, jump, etc.).
Play also includes learning about human interactions and relationships. The child learns such important life skills as communication, negotiation, and compromise when he is playing a game with other children.
Most friendships begin with play for children and even for adults. Think about how your own friendships develop — mutual interest and mutual pleasure (play) is key to the friendship growing and developing. The same is true for children.
And play stokes the imagination and fosters creativity — coloring in a color book or cutting out shapes, drawing pictures, all of these things bring the child's natural creative ability into focus for him.
Play can be serious business for children, although they would never classify it as "serious." My six-year-old son told me that he didn't want to go visit the child of a friend of mine because, "he doesn't know how to play fair." Children have their own set of standards that are mostly a mystery to adults, but there IS a system in place that matures through play into a set of adult standards.
An adult can watch children at play and simply miss all of the important "stuff" that is taking place between the children. The kids are determining a "pecking order," establishing boundaries, and developing their physical abilities as well as their creativity and their imaginations. And you thought they were just playing! Play IS the work of childhood.
To assist with the current crisis, TLC is temporarily offering FREE MEMBERSHIP and DISCOUNTED AGENCY FEES to all Medical Professionals and First Responders. We know you cannot work at home and want to help you ensure you have solid care arrangements for your loved ones. Call TLC at 314.725.5660 to learn more and get started.
TLC For Kids, Inc. has been St. Louis' premier nanny and babysitting agency for over 30 years. TLC For Kids' dedicated staff is ready to assist you in finding nannies, tutors, newborn care specialists, sitters and more in Atlanta, Charlotte, Chicago, Ft. Lauderdale, Jacksonville, Miami, Orlando, Palm Beach, Sarasota, St. Louis, Tampa and more!. Reach us at tlc@tlcforkids.com or 314-725-5660.
Good manners makes other people like a child, but maybe it's more important that good manners make a child like himself and give him confidence. Nobody wants to embarrass themselves by committing a faux pas. So the question is, how does a parent go about teaching a child good manners?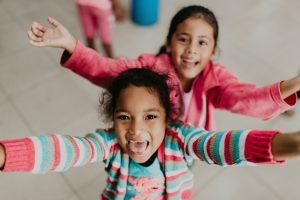 Actually, teaching good manners begins early and almost naturally. We teach our little ones to use the "magic words" ("please" and "thank you") as soon as they master "mama and dada."
Young children imitate what they see the adults in their world do. Imitation is the way children learn. If they see their parents using basic good manners, they will use good basic manners themselves.
But the finer points of good manners must be instructed. When instructing a child in using good manners, it is important to use positive teaching techniques rather than negative reprimands.
Good manners sometimes are governed by the words we choose to express thoughts. Your little darling might say, "YUCK! I hate this slimy green stuff!" Wait to correct him and at a later time and in private you tell the child that it would be more polite to say, "I really don't care for spinach."
It takes time and patience to teach a child to have good manners. You aren't going to cover the spectrum of good manners in a day of instruction, no matter how intense. Teaching good manners goes on and on. As situations are presented, you teach the child the most polite way to handle them.
And when you know that your child knows how to use good manners, you need to expect him to use those good manners all the time. Good manners can become a good habit and help your child to become confident in himself in social situations.