Posts Tagged 'International Nanny Association'
At the recent International Nanny Association 33rd Annual Conference in Tucson, Arizona, TLC for Kids, Inc. founder and CEO, Sharon Graff Radell, was honored with her 30 Year INA Service Award Pin.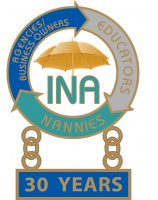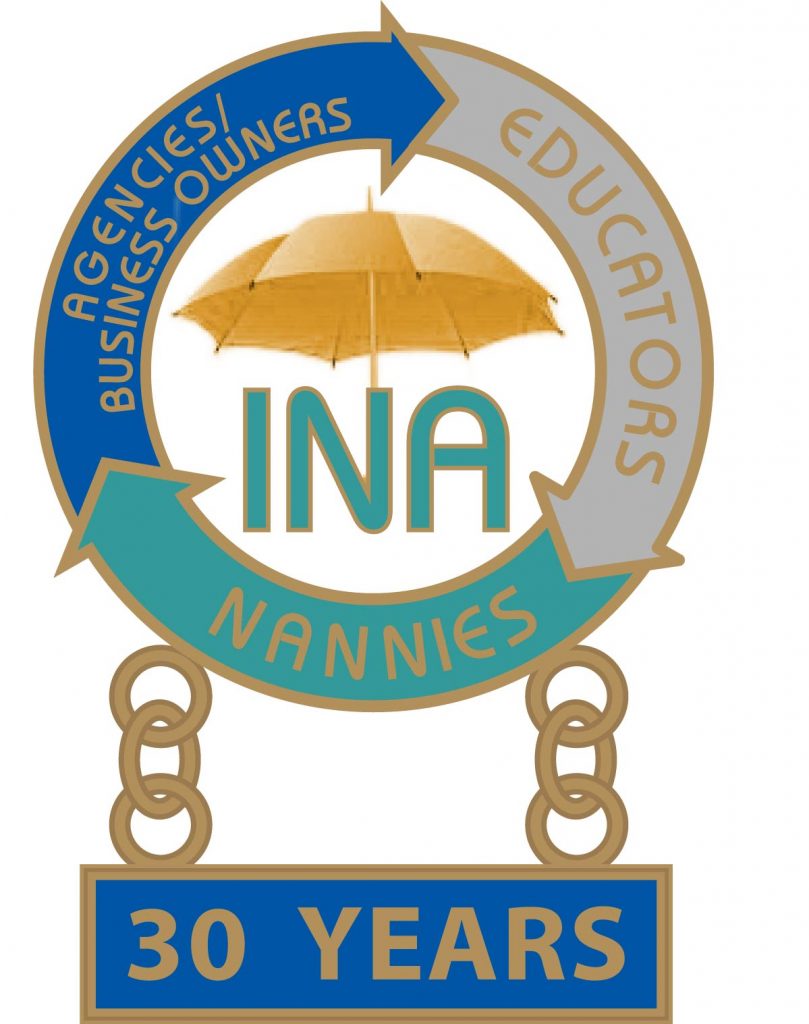 The INA Service Award Pin is presented to nanny educators, referral agency owners (or their staff), and business owners (or their staff) who serve the in-home child care industry. The Service Award Pin program originated within the National Association of Nannies in 1995. Thanks to the dedication and generosity of past NAN members, the Service Award Pin concept will continue on within INA and will share the same goal of recognizing those within the in-home child care industry for their hard work, dedication and commitment to professional excellence.
TLC in St. Louis was one of the first nanny and child care agencies in the United States and introduced one the first emergency and back-up care systems in the US. Today TLC brings high quality service to St. Louis, Miami, Tampa, Orlando, Jacksonville, Palm Beach, and Atlanta families and serves as a national model and consultant to agencies throughout North America. Sharon has been involved in the nanny industry since 1985 and has helped agencies in markets across the county to better understand and service their clientele through numerous workshops and private consultations. She also served on the board of the International Nanny Association for 16 years working to establish professional industry standards for agencies and nannies.
Congratulations Sharon on this honor.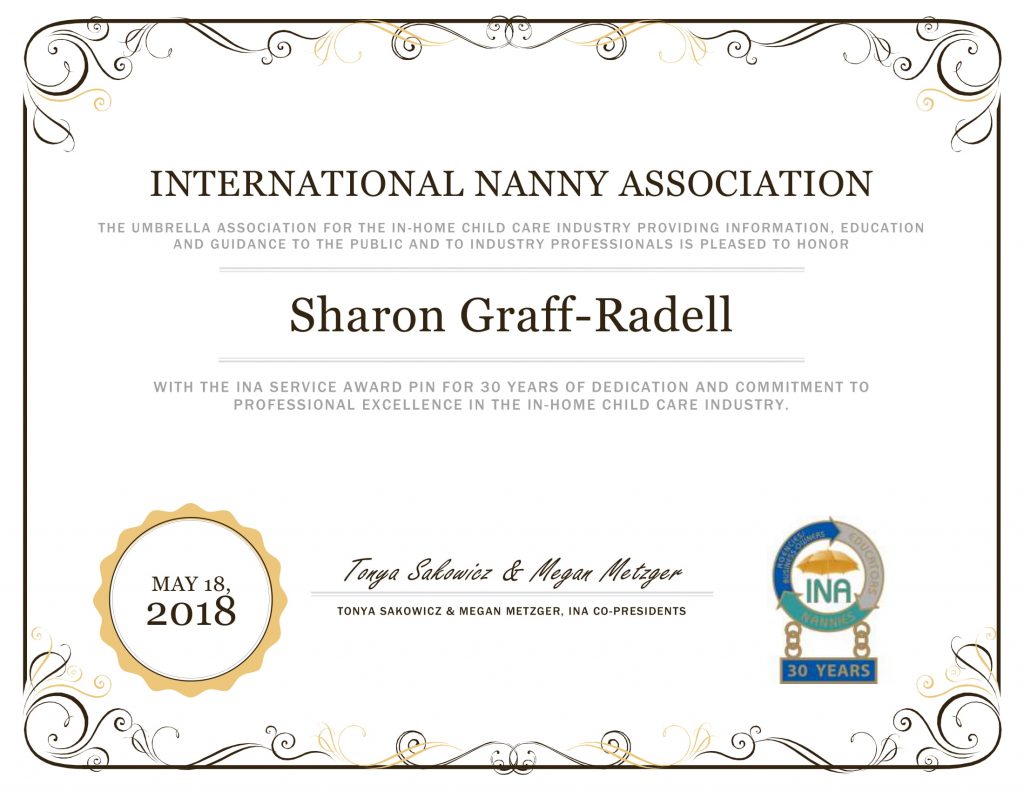 Our guest post today comes from the International Nanny Association.
No matter what industry you are in, job searching is hard to do. Between researching job duties, meeting minimum requirements, and updating your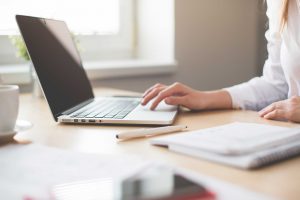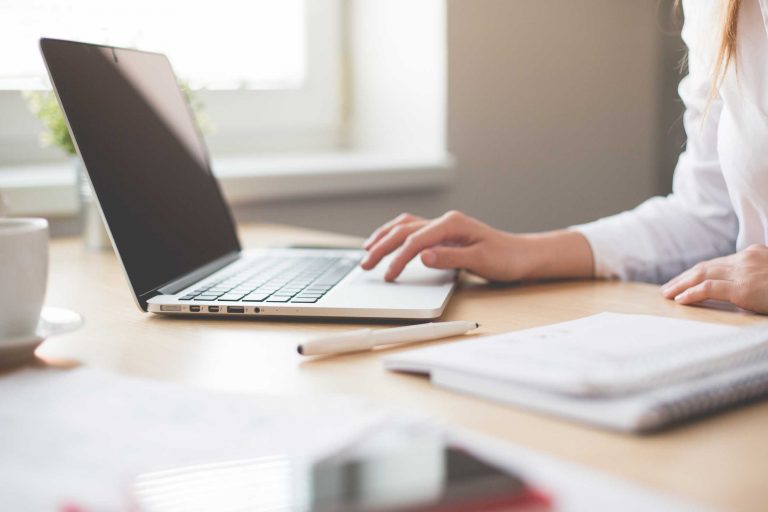 resume, it seems like getting a job- can be its own full-time job! So when your job history read a little more like "for the time being" than "for the long term", you may need some help making all those short-lived positions seem like an asset rather than a liability. Here are 5 good ways to persuade a future employer that your short-term positions are of high value:
Acknowledge that you have a resume of short-term positions. Position yourself to professionally answer questions about your job history; being able to explain this over the phone, or in-person, is even better, so be proactive in making connections and seeking face-to-face contact. Whether you quit under good or bad circumstances, or were fired, "let go" or simply not needed anymore, you need to own this part of your individual professional package. Presenting a positive, optimistic attitude can go a long way in showing an agency or potential employer what kind of demeanor you have when going through a difficult situation. Staying honest when questioned about the amount of turnover in your positions, will show trustworthiness and transparency- traits that are highly favored by employers.
Taken from this month's issue of the  International Nanny Association June / July 2010 Newsletter, below are highlights of this year's Nanny of the Year, Greta Schraer.
Shoot me an email to read the entire article: jessica@tlcforkids.com.  
I am so very honored to be the recipient of this award and to have the opportunity to share my heart with you this afternoon.
This past year for me has been a whirlwind. I have seen my career grow and change, largely due to last year's INA Conference. I barely made it to Dallas. My husband, and I were in the process of buying a house – and it didn't make sense to come. But at the last minute I decided to, and so glad that I did.
I remember clearly where I was sitting last year at the Nanny of the Year Luncheon … a table of eight, all strangers. I may have seemed calm to those around me but inside I was ECSTATIC to find this "Nanny world." I remember listening to Donna Robinson's great storytelling of the places her Nanny of the Year bag had traveled and MaryAnn Meddish's encouragement to nominate someone we know as the next recipient. It felt like the first day of high school; I was trying to soak it all in.
I've felt a calling to children from a young age. I am only child and always wished I had my own siblings. I seemed to gravitate to those younger than me. My mother saw these natural tendencies and enrolled me in a course to become a "Red Cross Certified Babysitter" at age 12. She then found my first infant child care job with her as my mentor. I babysat through high school and took on part-time and full-time nanny positions throughout college. After receiving my theology degrees, I became a youth minister for junior and senior high students, nanny-ing part time on the side for fun and much needed income. Three years ago, I went back to caring for children full time.
This is my first position working with triplets – three boys. Family members of mine were hesitant at the challenge ahead. I kept hearing the phrase, "You don't know what you are getting into." Friends are still "wide-eyed" when they see three car seats all lined up in the middle row of my car. There are strange looks, points, comments, and many "bless your hearts" from those observing. I admit we are quite a sight navigating the tight hallway at preschool or climbing the hill at the zoo with our choo-choo wagon. Most don't get WHY I would choose this job, AND love it. But, you do.