Posts Tagged 'Household managers'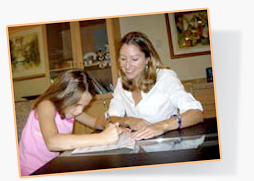 TLC for Kids has been helping families find quality childcare for over 30 years.  Did you know that we also place Household Managers  and Personal Assistants?
When kids are old enough to go to school often times families still need before and after school care. Household Managers or Personal Assistants can fit this need.  The employee arrives in the morning to help get kids ready for and off to school.  Then during the day they are free to do things around the house.
A Household Manager or Personal Assistant has a wide range of job responsibilities that include cleaning and organizing the house, doing laundry, scheduling household repairs and maintenance services, maintaining the families schedule and running errands.
In the afternoon the Household Manager will pick up the kids from school and switch to kid-related responsibilities.  These include going through book bags and reading all important school work, helping with homework and projects, transporting to after school activities, and helping with dinner.
On sick days, holiday breaks and school holidays the full-time Assistant is free to watch the kids.
A Household Manager keeps your family and home running smoothly.
To learn more about hiring a TLC Household Manager or Personal Assistant visit our website TLC for Kids or call (314) 725-5660 in St. Louis or (305) 256-5905 in Florida.
TLC For Kids, Inc. has been St. Louis' premier nanny and babysitting agency for over 30 years. TLC For Kids' dedicated staff is ready to assist you in finding nannies, tutors, newborn care specialists, sitters and more in Atlanta, Charlotte, Chicago, Ft. Lauderdale, Jacksonville, Miami, Orlando, Palm Beach, Sarasota, St. Louis, Tampa and more!. Reach us at tlc@tlcforkids.com or 314-725-5660.
While TLC for Kids has a reputation for providing care to families with younger children, they also have services for families with older kids too.
TLC for Kids has nannies available to work as household managers.  Household Managers are a great fit for families with school age kids.
A household manager has a wide range of job responsibilities:
• Take the kids to school in the morning
• Clean and organize the house
• Do laundry
• Run errands (grocery shopping, dry cleaning)
• Schedule appointments (and take the kids to the appointments, if needed)
• Handle repairs and maintenance services
• Pick kids up after school, and take them to after school activities
• Care for children when sick
A household manager keeps your home and family running seamlessly. Having a household manager allows you to enjoy time with your family when you are home, and focus on work when you're at work.
Want to know more? Call TLC for Kids today (314) 725-5660.
As kids get older the needs of the family change.  The family you are working for no longer need you to plan play dates, work on gross motor skills, and work on imaginative play.  Instead you are needed for house organizing, chauffeuring duties, and homework help.  TLC For Kids places nannies in full-time Household Manager positions.
I came across these tips from the Regardingnannies.com blog.
Understand that you won't be punching a time clock.  While you may be used to starting when the parents leave in the morning and being done when they come home, the role of a Household Manager isn't so black and white.  An urgent repair may require a vendor call at 7 am, a delivery may have truck trouble or get stuck in traffic, and will now arrive at 8 pm.  It all requires flexibility, lots of patience, and the ability to think quickly, problem solve and multitask.   If you work more than forty hours in the work week you will be compensated for overtime.
Be Organized.  Keeping an accurate and detailed calendar is a must.  I keep a paper calendar for quick reference on my desk, as well as notes on what tasks were completed that day, follow ups to be done and general notes to self.    I also utilize Gmail and their calendar is great as it syncs with my cell phone and I can color code vendors, school, work and personal appointments. The capability to keep notes on the appointment is a plus as well.   Technology is your friend!  Get to know the latest apps available to help with organization, time management, note taking, mileage tracking and more.
Clearly define your work agreement.  We highly recommend a detailed work agreement.  Since you be doing childcare and household managing make sure the contract covers both.  The contract should clearly define all of the responsibilities and include which role plays a priority in special circumstances, such as sick child, vacations, and inclement weather.  Remember to be flexible.  Not every day goes as planned.
If you are interested in learning more about Household Manager positions please contact us.