Posts Tagged 'household manager'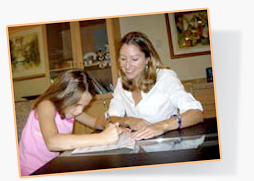 TLC for Kids has been helping families find quality childcare for over 30 years.  Did you know that we also place Household Managers  and Personal Assistants?
When kids are old enough to go to school often times families still need before and after school care. Household Managers or Personal Assistants can fit this need.  The employee arrives in the morning to help get kids ready for and off to school.  Then during the day they are free to do things around the house.
A Household Manager or Personal Assistant has a wide range of job responsibilities that include cleaning and organizing the house, doing laundry, scheduling household repairs and maintenance services, maintaining the families schedule and running errands.
In the afternoon the Household Manager will pick up the kids from school and switch to kid-related responsibilities.  These include going through book bags and reading all important school work, helping with homework and projects, transporting to after school activities, and helping with dinner.
On sick days, holiday breaks and school holidays the full-time Assistant is free to watch the kids.
A Household Manager keeps your family and home running smoothly.
To learn more about hiring a TLC Household Manager or Personal Assistant visit our website TLC for Kids or call (314) 725-5660 in St. Louis or (305) 256-5905 in Florida.
TLC For Kids, Inc. has been St. Louis' premier nanny and babysitting agency for over 30 years. TLC For Kids' dedicated staff is ready to assist you in finding nannies, tutors, newborn care specialists, sitters and more in Atlanta, Charlotte, Chicago, Ft. Lauderdale, Jacksonville, Miami, Orlando, Palm Beach, Sarasota, St. Louis, Tampa and more!. Reach us at tlc@tlcforkids.com or 314-725-5660.
The nanny placement staff at TLC in St. Louis has been getting a lot of calls lately from nannies looking to transition from a full-time nanny job into household managers. We were excited to come across this article By Kellie Geres, Regarding Nannies Development Team
Today starts a new series on Regarding Nannies. I will be introducing you to the wonderful world of Household Management.  I have been a nanny for almost 23 years.  With all the families I have worked with, I have held some type of household management responsibilities.  With each job the responsibilities became more and more, but I found I like this role I have assumed over the years.
I have been in my current position for over eight years.  When I started the kids were 8 and 10 years, they are almost 16 and 18 – soon to be headed off to college!  So what does a busy household with two teens, one who now drives, do?  The savvy employer approaches the savvy nanny and the two discuss their mutual needs of the job, the expectations, and the changes and come to the conclusion that what this family needs is not a nanny / household manager but a full-charge Household Manager and "Responsible Adult" around when the teens are at home.  An agreement is reached, a new contract is worked up and both parties continue doing what they do best …. Screeching halt!   After 22 years, I found it VERY difficult to take off the nanny hat.  It was very difficult for me to not remind (or nag as Teen 1 and Teen 2 like to call it) the kids to do their homework and stop being on Facebook or a million other little things I would do for them.  They are 15 and 17.  They can start doing things for themselves, and assume the responsibilities and consequences of their actions.
So after about six months not wearing the nanny hat, I finally settled into my routine of full-charge Household Manager.  So what does this mean?  How does it differ from what I was doing before?  My day is not scheduled around kids' activities, stopping whatever I was doing at 2:30 to be on 'kid duty' and do the after-school runs.  My day is now mine to structure for errands, deliveries, repairs, tasks, phone calls, emails, appointments, etc., etc.   And I like this!  We'll talk about the addition of a puppy named Riley later on in the series.
Household Management is NOT for everyone.  As I said before, I have held some type of HM duties in each position.  I think many nannies do.  But distinguishing yourself as a Nanny or a Household Manager are two different job descriptions.  This has to be a role you want to take on.  You have to be organized, be able to multi-task, and have effective communication skills – just to name a few.
Why would you want to take on this role?  Many nannies at some point in their career will be faced with parents who are placing child/children in school full-time so don't find the need to pay a nanny full time rate and offer to cut hours.  Many nannies can afford to live on part-time work.  By showing parents that by keeping you on and providing these additional services to your job you are actually providing them more time with their family, more flexibility with their schedules, stability in their child care arrangement and consistency in their home.  Remind them of summer break, holiday breaks, snow days, sick days and which parent will adjust their schedule to be home with the kids?  By doing the homework below, you'll show them all you can assist with, allowing them more time as a family during the evenings and weekend, when these tasks are typically done.
So where will this series go?  I hope to provide the following:
Introducing Household Management to your current position
Keeping job when kids go to school full time
Creating a Household Manual
What should a Household Manager be doing or not doing
Communication and Organization Tips
and much more!
I would love to hear what you want to see in this series or learn more about.  Comment below or email me at Kellie@regardingnannies.com with your suggestions.
Lastly, some homework!  For the next month track every little thing you do for the family you work with.  From emptying the dishwasher, to putting away laundry, to stopping at the store.  Who was home sick, who had doctor or dentist appointments.  Keep track of it all. You'll be surprised (or maybe you won't) at all that you do in a given day or week.  Keep this journal for yourself; you don't have to share with employers.   Also, with the journal, invest in a good calendar that you can track all the dates for work related events – appointments, school events, play dates, etc.  This too can be just for you.  All of this comes into play when laying out your plan of action for incorporating Household Management into your every day job description.
It can be done and it can be very successful. I hope to provide you with the information and tool you need to make it happen.
The Evolution of the Afternoon Family Assistant
Better known as After-School Nannies, Family Assistants can do wonders to make life easier for your family. Life is supposed to get easier for us when our children start school, right? Wrong! It gets much more complicated. When my children were small, I never realized how many different activities and things needed to be done between 3:30 and bed-time. They need to be at different places after school, every day of the week. I often find myself taking my lunch-hour from 3:30-4:30 PM so I can shuffle my kids around from place to place. Then when my husband and I get home from work, we are trying to make dinner, supervise loads of homework, run to music lessons with one and soccer practice with the other, attend school functions, and it goes on and on! I only have two kids. I can't imagine how it would work with three or four kids, even in families where there are not two working parents. It is no wonder parents are exhausted and overwhelmed.
TLC for Kids has been finding nannies for families for over 25 years, but we have only recently seen a huge increase in the demand for family assistants after school. These nannies are becoming invaluable family assistants, alleviating the stress of busy families when they need it most: from 3 PM – 7 PM! The family assistant, picks up kids from school, provides transportation to activities, lessons and appointments, gets the kids started on their homework, walks your dog, empties your dishwasher, throws in a load of laundry and can start dinner. Some may offer special skills in art, foreign language, sports and music.
Plenty of moms used to hire a sitter to play with the kids while she prepared dinner, but today's families need more. Clients used to call TLC for Kids for After-school Nannies because they needed someone to pick their kids up from school and supervise them until parents could get home for work. Now, After-school Nannies/Afternoon Family Assistants are becoming an integral part of the family and provide so much more!
Afternoon Family Assistants are generally college students looking for a job that will fit with their class schedule. More often than not, our Afternoon Family Assistants are studying education and eager to put their education to work to help your children with their homework, teach them organizational skills and get them into a good routine for effective homework habits and study skills. Typical hours for Afternoon Family Assistants are any combination of M-F from 2:30/3:30 pm – 6:30/7:30 pm. They are generally flexible to work on school holidays, stay overnight if you have to travel, pet sit when your entire family travels and even work for you more hours in the summer when everyone is out of school.
So, if you are a parent like me, you may find an Afternoon Family Assistant a huge asset to the family; fewer battles over homework with the kids, more time for each individual child, less stress in your marriage, and time to breathe. If you are a student, an empty nester, a retiree looking for a great part-time job, an Afternoon Family Assistant job might be just what you are looking for!
Here's a list of the various AFA responsibilities you may benefit from.
Pick up children from school
Take to after-school activities
– sports practice
– tutoring/Kumon
– music lessons
– religious school
Homework
– get kids to start homework before dinner
– teach good study skills
– help your child learn
– supervise musical instrument practice
Run errands
– grocery store
– target
– dry cleaner
– Walgreens
– library
Start Dinner
Help with homework
Do a load of laundry
Empty the dishwasher
Sports
-practice sports
-teach kids to ride a bike, skate, etc.
– supervise active, outdoor play
Supervise/help kids with household tasks
– emptying out their backpacks
– supervising their chores
– keep them away from the TV!