Posts Tagged 'hiring a nanny in Florida'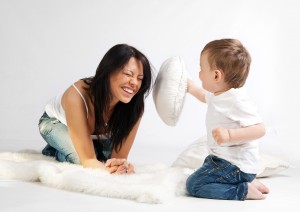 Interviewing a nanny is the most important step in the nanny hiring process.  You want to make sure you know as much as you can about the nanny before hiring her(or him).  TLC for Kids pre-screens and interviews every nanny before they are sent out on an interview with a family.   Hiring a professional nanny agency to do this work saves the family valuable time.
During a family and nanny interview the family wants to take the time to ask both work related and childcare related questions.  Here are the top  interview questions every family should ask a nanny.  Remember to write down the answers so you can refer back to them when making your hiring decision.
1.  Why do you want to be a nanny?
2.  Tell me about your previous childcare jobs.  What was the last job you had?
3.  What are your strong points when working with children?
4. What would you do with my child/children on a typical day?
5.  What characteristics are you looking for in a family?
6.   How would you soothe a crying baby?  Toddler?
7.  What's your philosophy on discipline?  Does it change as kids get older?
8.  How would you handle an emergency?
9.  Have you taken any childcare related courses?
10.  What TV viewing habits or screen time do you think children should have?
Keep the focus of the interview on the nanny and the job requirements.  Once you have decided on a candidate you can negotiate salary and benefits.
TLC for Kids has been placing nannies in Missouri and Florida for 30 years. To learn more about our agency and what we can do for you visit our website tlcforkids.com.
Everyone at TLC for Kids is so happy to help families find great childcare.  Read what happened to Adriana, our Nanny Placement Counselor in Florida, the other day.
"The funniest thing happened to me the other day while I was getting my hair cut at a salon in Coral Gables, Fl. While I was talking to the hairdresser, she asked me what I do for work. I told her I hire and help place nannies with families all over South Florida and we often placed nannies in the Coral Gables area. She mentioned that there were a lot of families with children living in the apartment building the salon was located in. She said she often sees a pair of twins in the building with their nanny and began talking about how cute they were. When she described the nanny and the kids, I realized it was a TLC nanny!  One of our nannies had been placed to work with twins in that building!
She went on to tell me how the kids always seemed to be having such a great time with the nanny.  The nanny also seems to be happy, and that she could tell they had a very close and happy relationship.
I am so glad to know that here at TLC we are making a difference for the families in this community by providing quality childcare!