Posts Tagged 'halloween for the whole family'
Happy Halloween!!
Halloween is just around the corner!  Are you still  stumped for costume ideas?  TLC is here to help, with our favorite costumes that kids can make themselves with a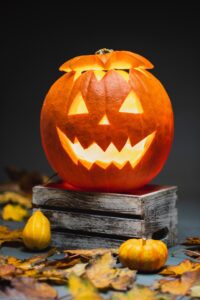 parent or nanny's help.
1)      M&Ms/Skittles bag: With some felt, carefully cut out circles of "candy." Next, sew or glue the candy pieces onto a black (M&M) or red (Skittle) outfit.  Your kids will transform into little packets of their favorite candy!
2)      Bubble bath: Cut the bottom out of an inflatable kiddie pool to go around your child's waist and attach suspenders so it stays up, then glue on some small balloons to look like bubbles.
3)      Pig in a blanket: All you need to turn your kid into an adorable little piglet are pink clothes and some easy homemade pig ears and nose. Then wrap them up in a blanket and you're all set!
4)      Raining cats and dogs: Dress your child in rainboots and a raincoat, and attach felt cat and dog shapes to an umbrella. They'll love that it's "punny"!
5)      Watercolors: All you need is a kicky felt beret, and a paper or felt poncho with round patches glued on to look like a watercolor palette.
6)      Sailor: Dress them up in stripes and a sailor hat, then fashion a boat out of paper and hang it around your child's waist like you would with the bubble bath costume mentioned above.
7)      Wind-up doll: Dress your child up like a little doll, and attach a big paper key to their back. You can even try "turning" it and getting them to dance!
8)      Hot-air balloon: A laundry basket with the bottom cut out and a balloon attached should do the trick.
9)   Rain cloud: Dress their torso in white felt or a ton of cotton balls, and attach little blue paper raindrops to their legs. It may seem dreary, but we promise it'll be cute!
Happy and safe trick or treating!
The professionals at TLC Family Care personally assist nannies, babysitters and families in St. Louis, Atlanta, Chicago, Nashville, Memphis, Charlotte, Miami and Orlando to find the right childcare arrangement. Our mission is to provide a safe and personalized  approach for families and caregivers to connect with each other that is not an internet search. TLC has worked with families, nannies, sitters, newborn care providers, and tutors for over 35 years and looks forward to working with you! To find great nanny and babysitting jobs visit us at tlc@tlcforkids.com or Call 314-725-5660.
Halloween

in St. Louis doesn't have to be too scary. There are plenty of fun and safe events for kids and the whole family.  Many of your favorite Saint Louis attractions are celebrating

Halloween

.
Here is a list of some fun events the whole family can enjoy. 
Visit Booterflies at the
Butterfly House

in Faust Park.  Visit the Butterfly House on October 21st and 22nd to join the party. 
Purina Farms

has transformed into the Haunted Hayloft.  Kids can wear their costumes and enjoy visiting with the animals.  Don't forget to take in the Magic Show!
Grants Farm

has tram rides through the "spooky" park in the evenings every weekend this month.   There are carousel rides and pumpkin decorating. 
In St. Charles you can trick or treat at the
Halloween Spooktacular

.  On October 28th spend the evening with friendly ghosts and goblins at Memorial Park. 
Visit the
Botanical Garden

for Ghouls in the Garden.  Kids follow a map and trick or treat through the Garden on October 28th from 1-3.  This is also your last chance to enjoy the Childrens's Garden before it closes for the winter.
Stop by the
Magic House

to enjoy the Not So Haunted House the weekends of October 19th-21st and 26th-28th.   With admission kids receive a free autograph book.  As they trick or treat through the house they can collect the signatures of some of their favorite storybook characters.
The
Saint Louis Zoo

is again hosting the  Boo at the Zoo Nights.  On October 17th-30th the Halloween fun is from 5:30-8:30.  This non-scary event is filled laughter and adventures and goody bags!
For admission cost and reservation information please call or visit each organization's website.
Happy Halloween!
TLC For Kids, Inc has been St. Louis' premier nanny and babysitting agency  for over 25 years.   TLC For Kids' dedicated staff is ready to assist you in finding nannies, tutors, newborn care specialists, sitters and more.  Reach us at info@tlcforkids.com or 314-725-5660.