Posts Tagged 'Halloween babysitters'
Happy Halloween!!
Halloween is just around the corner!  Are you still  stumped for costume ideas?  TLC is here to help, with our favorite costumes that kids can make themselves with a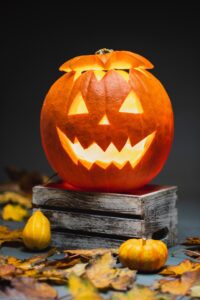 parent or nanny's help.
1)      M&Ms/Skittles bag: With some felt, carefully cut out circles of "candy." Next, sew or glue the candy pieces onto a black (M&M) or red (Skittle) outfit.  Your kids will transform into little packets of their favorite candy!
2)      Bubble bath: Cut the bottom out of an inflatable kiddie pool to go around your child's waist and attach suspenders so it stays up, then glue on some small balloons to look like bubbles.
3)      Pig in a blanket: All you need to turn your kid into an adorable little piglet are pink clothes and some easy homemade pig ears and nose. Then wrap them up in a blanket and you're all set!
4)      Raining cats and dogs: Dress your child in rainboots and a raincoat, and attach felt cat and dog shapes to an umbrella. They'll love that it's "punny"!
5)      Watercolors: All you need is a kicky felt beret, and a paper or felt poncho with round patches glued on to look like a watercolor palette.
6)      Sailor: Dress them up in stripes and a sailor hat, then fashion a boat out of paper and hang it around your child's waist like you would with the bubble bath costume mentioned above.
7)      Wind-up doll: Dress your child up like a little doll, and attach a big paper key to their back. You can even try "turning" it and getting them to dance!
8)      Hot-air balloon: A laundry basket with the bottom cut out and a balloon attached should do the trick.
9)   Rain cloud: Dress their torso in white felt or a ton of cotton balls, and attach little blue paper raindrops to their legs. It may seem dreary, but we promise it'll be cute!
Happy and safe trick or treating!
The professionals at TLC Family Care personally assist nannies, babysitters and families in St. Louis, Atlanta, Chicago, Nashville, Memphis, Charlotte, Miami and Orlando to find the right childcare arrangement. Our mission is to provide a safe and personalized  approach for families and caregivers to connect with each other that is not an internet search. TLC has worked with families, nannies, sitters, newborn care providers, and tutors for over 35 years and looks forward to working with you! To find great nanny and babysitting jobs visit us at tlc@tlcforkids.com or Call 314-725-5660.
Most kids love Halloween.  They look forward to the costumes but most importantly kids love the candy and the treats!
Trick or Treating is fun and should be remembered as a fun activity for kids.  But, there are a few things we as parents and caregivers need to do to keep our kids safe this year.
1. Use the buddy system.  Kids should not be out by themselves trick or treating.  Getting a group together makes the night more fun for everyone.  Just make sure you have a few parents to watch the group.   Older kids who don't need parent supervision should also go trick or treating with friends.
2. Check to see if your town has an evening curfew.  Make sure everyone in your party is aware of the curfew and knows it's important to follow the law.
3. Make sure costumes fit properly.  A loose fighting costume or a too big cape can be a safety hazard.  Make sure costumes and shoes fit so that little kids don't trip while trick or treating.
4.  Instruct the kids not to eat anything until it has been inspected by an adult.
5. Make sure your group is using a flashlight, glow sticks, or reflective tape on their clothes.  You can also add reflective tape to trick or treat bags.  This make it easier for cars to see you while you are out trick or treating.
We hope you have a fun Halloween.  Don't forgot to send us pictures of your little ghosts and goblins!
Halloween is just a few days away!
The American Academy of Pediatrics suggests to keep these safety tips in mind when trick or treating this year.
Costumes:
1. If your costume comes with accessories like a sword, cane or stick make sure it's not sharp and that your little one knows the proper way to carry it.
2. Try to plan costumes that are bright and reflective so that they can be seen in the dark.
3. Keep the costume off the ground so no one trips on it.
Treats
1. Send your children out with a full stomach.  They will be less likely to eat all that sugar if they had a healthy dinner.
2. Make sure all the candy is wrapped and safe to eat.
3. Once home go through all the treats to make sure everything looks safe and is clear of any potential allergens.
On the Trick or Treat Trail
1. Young children should always be accompanied by an adult .
2. If your older children are going out with friends plan the route they can go on and set a time that they need to be back home.
3. Only visit homes with a porch light turned on and never go inside the home.
4.  Walk on well lit streets and use sidewalks whenever possible.  If they street doesn't have sidewalks walk along the edge of the street.
Have fun trick or treating and don't forget to share your photos with us!