Posts Tagged 'Fourth of July Pinterest'
Where is the summer going?  We can't believe July is right around the corner!
Are you ready to celebrate?  TLC Family Care has a GREAT Pinterest page with so many cute and fun pins for nannies and parents.
I can't decide if I like the Patriotic Oreo Pops or the decorative pin wheels the most.  Take a look at the board and let us know your favorite!
The professionals at TLC Family Care personally assist nannies, babysitters and families in St. Louis, Atlanta, Chicago, Nashville, Memphis, Charlotte, Miami and Orlando to find the right childcare arrangement. Our mission is to provide a safe and personalized  approach for families and caregivers to connect with each other that is not an internet search. TLC has worked with families, nannies, sitters, newborn care providers, and tutors for over 35 years and looks forward to working with you! To find great nanny and babysitting jobs visit us at tlc@tlcforkids.com or Call 314-725-5660.
The Olympics are happening Friday, July 23 – Sunday, August 8. Though they may look a little different this year with COVID, the spirit and celebration of the athletes remains the same.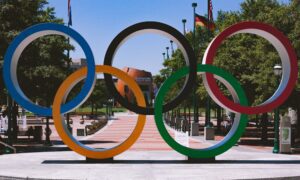 The Olympics are a great way to learn about each sport, athletes and countries participating. It's a great way to introduce teamwork, sportsmanship, commitment and respect to your little ones.
Check out our Pinterest board full of Olympic celebration ideas.
Check out Amazon's Best Selling Olympic Books.