Posts Tagged 'findthebestnanny.com'
Health insurance is a big concern for nannies, especially single nannies.   TLC for Kids has found that nannies are looking for health insurance as part of their full time job compensation package.   Offering health insurance to a nanny is possible and a tax free benefit!  Saving both the family and the nanny money!
Here is a blog from Regarding Nannies on the best practices of nanny health insurance.
Q. What does the family need to do regarding documentation to keep the health insurance non-taxable?
A. A family needs to have evidence that the nanny actually HAS health insurance in place, and that the policy cost is equal to or greater than the stipend. The easiest way to do this is for the family to write the check for the stipend directly to the insurance carrier. If that is not possible or desired, the family needs to:
1. Obtain and retain a certificate of coverage that shows the period and amount of the premium. This needs to be up to date, so you may need to do this semi-annually or annually depending on the policy.
2. Either write a separate check for the stipend with the memo clearly stating the purpose (BC/BS POLICY NUMBER July 2013 for example) OR provide a pay stub to the nanny stating gross wages, itemized deductions, net pay, and the addition of the premium contribution to the net pay as a reimbursement item.
Q. What are the tax benefits to the family?
A. The health insurance premium stipend is not taxable wages. The employer does not include this in the employee's taxable wages on the W-2 form, and does not pay Social Security and Medicare taxes (7.65%) nor Federal or State Unemployment taxes on the premium (~3.5 – 4% depending on the situation).
Q. What are the tax benefits to the nanny?
A.  Because the health insurance premium stipend is not taxable wages, the nanny does not pay Social Security and Medicare taxes (7.65%) nor income taxes (variable, estimate 15% for Federal and state) on the premium stipend.
A. Are there any audit risks involved?
Q. The biggest risk is that the family is paying the stipend and the nanny allows the policy to lapse. Retroactively this would make the premium stipend taxable, and at that point the family would be on the hook for the employer and employee Social Security and Medicare taxes (15.3% total) as well as the unemployment taxes. This is why it is a best practice to make payments directly to the carrier.
A typical health insurance plan for a healthy single nanny can run $500 or more a month. This is $6000 a year. Many families offer a partial premium benefit at time of hire, and will discuss picking up more in lieu of a raise when the compensation is reviewed.
A family who contributes $3000 a year saves approximately $330 in taxes (11% of the benefit!) and the nanny saves approximately $675 in taxes (about a week's pay!).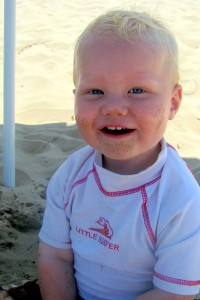 Summer is here and many of us are thinking about how we can keep our kids safe in the sun.
Parents and nannies everywhere are grabbing the sunscreen. Some sunscreens out there are made of chemicals that you may not want on the little ones.
There are natural sunscreens that are just as effective. Using safe ingredients, many lotions, creams and sticks provide excellent UV protection while minimizing chemical exposure.
TLC For Kids has made a list of some of the natural sunscreens that were included in The Environmental Working Group's (EWG) annual Safe Sunscreen Guide.
Many of these products can be found locally and  can be found online as well.
1. Badger Active Kids Sunscreen Cream
2. Burt's Bees Baby Bee Sunscreen
3. Wee Generation Baby Sunscreen
4. California Baby Sunscreen Stick
5. Raw Elements Sunscreen
Remember sunscreen isn't your only defense against the sun. Wear protective clothing and hats to avoid a sunburn.
I was looking at Debbie's blog today on findthebestnanny.com and thought I would share! Summer is here and many are seeking temporary or permanent employment, but be careful if using online sites. This is sound advice for all.
While looking for jobs online one always needs to be cautious. There are scams everywhere.
I was reminded of this again today when I saw a story about a young college student who is now out $2000. She was looking for nanny jobs online with a nanny website Care.com. A great job caught her eye and she started corresponding with the potential employer. "Mom" sent her a check to be deposited for certain things the family would need once they arrived in the city. The nanny did deposit the check. Then "mom" changed her mind and requested that the nanny send back the money. It was only after sending the money back that she discovered the initial check was counterfeit.
There was no family moving to the area and no dream job. In fact, now the nanny is out the money.
Findthebestnanny.com wants all nannies to please keep in mind these tips when looking for a job:
1. Beware of correspondence with poor English and grammatical mistakes.
2. If a potential employer asks you for money it is more than likely a scam. Never transfer money to someone you don't know.
3. Be careful if someone only wants to correspond via email or text. They may be trying to hide personal information and a telephone number.
Findthebestnanny.com offers more tips on our Safety First page. We are ask every employer and applicant to agree to these guidelines before working with our site. Please review this information when looking for a nanny job.
If you are worried about a potential scam contact the website administrator right away or contact your local Better Business Bureau.