Posts Tagged 'finding sitters in South Florida'
Spring Break is a fun, and busy, time of the year! Whether you are going out of town for a warm getaway, or having a stay-cation  TLC Family Care can help you with your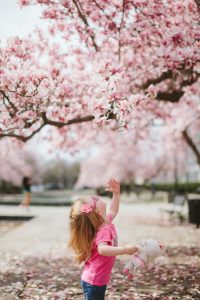 Spring Break needs.
Lots of families go on vacations for Spring Break. But not every vacation is inviting for your four-legged friends. Instead of taking your family pet to a pet daycare, have a sitter come to your home. Your pet will receive the same attention as if you were home with them. And a TLC sitter can do more than just watch your pet. They can also stay at your house to keep everything safe and allow you to enjoy your vacation without worrying.
Did you know TLC sitters are available to travel with your family on vacation? Families often fill their vacation schedules with activities for the kids. But TLC for Kids recognizes parents need a vacation for themselves, too. Bringing a TLC sitter or nanny a long gives parents the flexibility to see places they are interested in, have quiet meals at adult places, and know their kids are being cared for by someone they trust and their kids are comfortable with (remember you can request your favorite sitters anytime you need a TLC nanny).
If your kids are out of school for the week, but you still have to work, don't worry! With TLC Family Care, you can hire a nanny for the entire week. Our sitters can come to your home with activities to keep the kids entertained while they are away from school. TLC sitters also have reliable and insured forms of transportation, so the nanny can take your kids to places around the city or to and from their practices/school events.
The professionals at TLC Family Care personally assist nannies, babysitters and families in St. Louis, Atlanta, Chicago, Nashville, Memphis, Charlotte, Miami and Orlando to find the right childcare arrangement. Our mission is to provide a safe and personalized  approach for families and caregivers to connect with each other that is not an internet search. TLC has worked with families, nannies, sitters, newborn care providers, and tutors for over 35 years and looks forward to working with you! To find great nanny and babysitting jobs visit us at tlc@tlcforkids.com or Call 314-725-5660.
I came across this blog from North Shore Pediatrics with some great apps for kids, especially kids with Autism.  TLC for Kids is proud to be part of the Walk Now for Autism Speaks this Saturday.  Stop by our booth and say hello.
123 Token Me– This app is a visual token board that can be used for one child (free version) or unlimited children and unlimited behaviors ($9.99).  This app gives you the versatility to choose background color, various token choices, and graphs and visually displays data for you. This is the most motivating token board I have used with my kids because it is interactive.  Also, one of the token options shows a picture of the child, which they all love!
First Then Visual Schedule HD– This app is 2 applications put into one; it is both a visual schedule and a choice board.  It allows you to show the child "first ___, then ____." with the ability to make choices from a visual field.  It also allows you to make more complex, multiple-step, visual schedules.  It is a bit on the pricey side at $14.99 but totally worth it if your child struggles to make choices verbally or would benefit from a visual schedule.  It is much easier to carry around than a paper schedule or choice board, because you can update it on the fly using the camera function or Google images.
Duck Duck Moose, Inc.- (includes Wheels on the Bus, The Itsy Bitsy Spider, Old MacDonald and many more).  All of the Duck Duck Moose apps are a big hit with all the kiddos I work with as they are interactive, the characters move, jump and dance, and they all play familiar kid's songs.  The apps range in price from free versions up to $3.99 each.
Visual Timer- Search "visual timer" in the app store and choose VisTimerFree or VisTimer ($.99).  Both versions show a circle slowly decreasing in the color of your choice, along with various sounds to choose for early warnings and end times.  The paid version allows you to set the timer for up to 24 hours, while the free version only allows up to 5 minutes. This app provides a great visual for kids to see the circle decreasing.  Once the color is gone, their time is up!
Peekaboo Barn– Showcases a barn full of animals that pop out one at a time and make noises.  Children can guess which animal is coming next, learn names of the animals and learn animal sounds.  The full version is $.99.
Dora's Great Big World– This app is packed with games that focus on school-readiness including literacy, math and science! Boys and girls alike love this game! It runs $2.99 for iPhone and $5.99 for iPad.
Thomas and Friends Engine Activity Fun– This free app offers puzzles, coloring pages, and memory games to play featuring all of your favorite Thomas friends!
Mr. Potato Head Create and Play– For $2.99 you can customize Mr. Potato Head in over 200 combinations!  You can teach children to play functionally or foster their creativity and allow them to make funny faces or put a mouth where his hand should be!