Posts Tagged 'coping with seperation anxiety in children'
"Rosh Hashanah is the Jewish New Year and is celebrated in early Autumn. It is believed to be the anniversary of the creation of Adam and Eve, the first man and woman, and no work is allowed on Rosh Hashanah."
Here are some helpful resources to explain and celebrate with your children.
Rosh Hashanah Facts & Worksheets
It is common for kids, especially preschoolers, to suffer from separation anxiety. Separation anxiety is  hard on both the child and the parents.  Trust me  I know, I have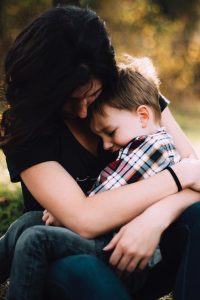 lived through it.  Whether it was taking my children to school, a birthday party or a leaving them with a babysitter they cried.  Leaving them was hard but leaving them when they are crying was even harder.  Thankfully, I don't have these problems anymore.   Now when I leave them with a TLC  babysitter they wave goodbye with a smile on their face and start playing.
Here are some tips from  Dr. Laura Horsch , a child psychologist in Menlo Park, California on helping your kids deal with separation anxiety.
1.   It's important for parents to keep their morning goodbyes consistent and short. "Lingering in response to crying or tantruming may inadvertently reinforce those behaviors," explains Horsch.  The rule of thumb in such situations is to strive for a short goodbye process.
2. "Parents are encouraged to prepare their children for what to expect, acknowledge their child's feelings, engage their child in a goodbye ritual (for example, hug, wave, etc.), and reassure their child that they will return," she says.
3.  And it's crucial for parents to talk openly with their children about their feelings. Read a book about kids going off to school or Mommy going to work and then discuss with your child. And remind them that Mommy or Daddy will always come back to get them.
Horsch reminds parents that being tearful before mom or dad leave is common and natural. "Remember that these challenges are likely a normative part of healthy child development. These experiences are part of a child's building resilience and emotion regulation."
And she adds that there is almost always a silver lining: "Most children calm down quickly and enjoy their day shortly after their parents' departure."
To read the complete article and interview with Dr. Horsch click here.
The professionals at TLC Family Care personally assist nannies, babysitters and families in St. Louis, Atlanta, Chicago, Nashville, Memphis, Charlotte, Miami and Orlando to find the right childcare arrangement. Our mission is to provide a safe and personalized  approach for families and caregivers to connect with each other that is not an internet search. TLC has worked with families, nannies, sitters, newborn care providers, and tutors for over 35 years and looks forward to working with you! To find great nanny and babysitting jobs visit us at tlc@tlcforkids.com or Call 314-725-5660.
Most people connect separation anxiety with infants.  However, it is normal for kids to experience separation anxiety throughout different times in their lives.  It can occur again at 3-4 years old, 5-7 and again from 11-14.  The older ages correspond with starting school for the first time and again when starting middle school or high school.
If you have a child that is suffering from separation anxiety here are some things you can do to help.
1. Start a countdown.  Whether it's starting school, the first day with a new nanny or babysitter or going to a new daycare.  This will help them get used to the idea that you are leaving.
2. Prepare them as much as possible.  If they are starting school try to visit the classroom and teacher ahead of time.  Or meet some of the other students.  Let your child know what will happen during the day so that the fear of the unknown doesn't take over.  If it's a situation where mommy and daddy are going to work have the nanny over a few times before her first day,
3. Don't exaggerate the good-bye.  Everyone(teachers, psychologists and nannies) agree "don't drag out your good-bye. " Say a quick farewell and assure them that you will be back.  Lingering or showing any hesitation shows your child uncertainty.
4. Don't tell your child you will miss them or go overboard on your reunion.  If a you talk about how much you missed them your child might feel guilty about leaving you.  Not the feeling we want on a first day!
It may take time for your child to get used to the separation.  If the fear doesn't go away after 4 weeks it's time to consult an expert.
Both my girls have separation anxiety.  My oldest is coming out of it and feeling more comfortable when I leave her places.  However, my middle child just started kindergarten and she is having a VERY hard time with me leaving her.
If you have any tips on how to help with separation anxiety please share them with us.
TLC For Kids, Inc has been St. Louis' premiere nanny and babysitting agency  for over 25 years.   TLC For Kids dedicated staff is ready to assist you in finding nannies, tutor's, newborn care specialists, sitters and more.  Reach us at info@tlcforkids.com or 314-725-5660.