Posts Tagged 'childcare jobs in South Florida'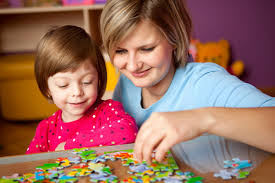 Would you like to:
Find a nanny or babysitting job in the St. Louis Area?
Care for and nurture young children?
Provide fun learning and age appropriate activities?
Make a real contribution to a family?
Then TLC for Kids is here for you.  We help caregivers find great nanny positions in St. Louis, Missouri and South Florida.  Click here to begin your job search!
Here are a few of our current job openings in St. Louis:
1.) Full-time nanny needed in University City, MO.  Twins are 4 mos. old and hours are 9a-5p.  Family is seeking someone who has permanent nanny experience with twins! Starts ASAP and pay is $550+/wk
2) Full-time nanny needed in Chesterfield, MO.  Twin girls are 3 y/o's and family would love someone with a preschool background.  M/T/TH 12p-6p and W/F 7a-6p. Pay is also $550+/wk.
3) Part-time live-out housekeeper / nanny  needed in Belleville, IL.  Two families will nanny share for M-TH. Applicants must have housekeeping experience and references.  This is also a permanent position (1 year+) and will pay between $15-18/hr.
4) Part-time nanny needed in University City, ASAP!  Schedule is Monday, Tuesday and Thursday 8a-6p.  Toddler is very active, and 10 mos. old will be soon! Mom is seeking someone very calm and patient. Schedule is a little flexible. Pay is between $13-16/hr.
5) Part-time morning position in Clayton.  New baby (4mos. old) will need care 8a-1p M-TH.  Must have infant experience! Starts ASAP!
Contact Jessica@tlcforkids.com if you have any questions.
Although summer has just begun, families are already searching for after-school care for their children.
Some may think an after-school nanny position is just picking up the kids from school and taking them home for the evening. Yes, day-to-day tasks are part of the job, but being an after-school nanny is much more fulfilling than being a chauffeur.
As a former after-school nanny, I got to become an integral part of the family's life. After I picked up the kids from school, we would come home and enjoy an after-school snack. While the kids snacked on fruit and crackers, I would get to hear about the most exciting parts of their day: the new books they read at school, what happened on the playground, and if anyone disrupted class (believe it or not, elementary school kids have a lot of gossip). After snack, we would start doing homework. During homework time, I got to strengthen my bond with the kids. They were looking to me for guidance and trusting that I was leading them in the right direction, and I got to learn what excited them about learning and what they struggled with (If you are going into elementary education, or any other field involving working with kids or teaching, this job is an excellent resume builder). On the days the kids had ballet practice, I would go to practice with them. Like homework time, this strengthened my relationship with my kids because I got to see them doing what they loved. If the kids didn't have homework or practice, we would come from school and play, read, or make arts and crafts. Other than getting to bring out my inner kid and have fun, being an after-school nanny also included picking up the toys, and occasionally helping prepare dinner. This was the perfect job for me during my beginning days of college—it allowed me to go to my morning classes, and I was off work early enough to finish my homework (and have a social life).
Like I said, this is an especially great job for students, or anyone else who has free time in the afternoon. The hours needed for an after-school nanny are usually 3pm-6pm, or 2pm-6pm. Pay is typically between $12-$15/hour.
If you are an energetic, caring, and responsible individual looking for an after-school nanny position, you can apply today.
By Brooke Angel