Posts Tagged 'babysitting agency'
We are happy to introduce three of our newest temporary sitters!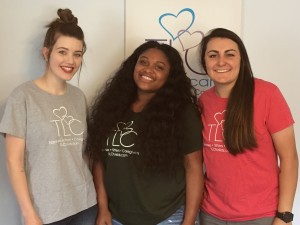 Krystal is currently attending the Hickey College school of Veterinary Technology and helps run an all male barbershop chorus. She has worked with children since she was 14 years old. Before working with TLC, Krystal babysat for friends and family since she was 14 and worked in a child development center. She has experience that ranges from one year olds to preteens! Krystal is available evenings and weekends.
Nadica is a very enthusiastic College student studying Mass Communications (TV and broadcasting). She has worked with children of all ages ranging from infancy to teenagers as a tutor, a gymnast coach and has held several nanny positions. She knows how to keep children active and motivated and is happy to prepare meals.
Caylee is a recent college graduate from SIUC. Caylee has a lot of personal experience working with children with disabilities – both during her internship with Special Olympics and summer nannying. She has also worked numerous sports camps for kids throughout her four years as a collegiate athlete.
Jasmine is available for day and evening shifts.
If you would like to arrange for any of these sitters for your next date night give us a call at 314-725-5660!
Most parents these days need more sleep. Especially parents with infants. I know I did!
TLC for Kids now has a certified sleep consultant to help St. Louis families with those sleepless nights. Visit our website to learn more about TLC for Kids Newborn Services.


I'm excited to be share a wonderful blog post today from a Certified Gentle Sleep Coach, Jen Varela! Jen has been helping tired families get sleep since 2010, and wanted to share some of her sleep wisdom with you! Here are three things she recommends to all her families .
1. Sleep begets sleep
It is amazing how this works! What time does your baby go to sleep at night? Is it too late? Did you miss the "sweet spot" sleepy window? For babies six months or older consider a bedtime between 6:30-7:30 p.m. Helping your baby get the proper amount of sleep can reduce fussiness at bedtime, decrease the number of night awakenings and eliminate early rising. Also take a look at the "sweet spot" for the first nap of the day. If you wait too long then you may miss their first sleep window.
When they are infants consider keeping the window at 90 minutes between waking for the day to asleep again at the first nap. As your baby grows their ability to stay awake for longer periods of time will also grow. Between the ages of four and a half to six months your baby's wakeful window will mature and stretch from 2 to 2 ½ hours.
2. Milestones
Is your baby starting to crawl? Could they be in the middle of a developmental milestone? Did you know that when your baby is in a developmental burst that they will … yes, I said WILL have a sleep regression. Did the number of night awakening increase at the same time as they were working on something new? This is a good thing because they are doing what they are supposed to do. They are consolidating memories during REM sleep, integrating their experiences and making new connections in their brain.
3. Routine
Routine is defined by a nice flow to your day, not rigid scheduling. Doing the same thing in the same order or fashion. An example would be to eat upon waking or be social and active during alert times. The bedtime routine creates a positive association with going to sleep. You want to have a nice flow to your day and predictability can aid in better sleep. Don't get caught up in a rigid routine, you might miss your baby's sleep cues if you get to focused on the clock. Try doing things in the same order before sleep. A verbal sleep cue is very helpful with communicating it is time to go to sleep without it being stimulating and overly engaging. Everyone likes a little "sweet-talk" when they are tired.
Click here to read more tips from Sleep Lady consultant Joy Varela
Did you know TLC sitters are available to travel with your family on vacation? Families often fill their vacation schedules with activities for the kids. But TLC for Kids recognizes parents need a vacation for themselves, too. Bringing a TLC sitter or nanny along gives parents the flexibility to see places they are interested in, have quiet meals at adult places, and know their kids are being cared for by someone they trust and kids are comfortable with (remember you can request your favorite sitters anytime you need a TLC nanny).
Since the details of traveling can sometimes be overwhelming, it is important to discuss a few things with your nanny: how much will she be paid, how much time off will she have, and where will she stay.
Pay:  Payment is always negotiable between the family and the nanny, but the number of hours your nanny is needed and her work expectations should be taken into consideration. Offering to cover travel expenses. lodging and providing meals for her while the family is on vacation is expected and is not considered part of her salary. A nanny who is expected to be on duty day and night, waking up in the middle of the night when young children do, will clearly earn more than a nanny who is only required to work during day hours.  It is important to remember your nanny will want some time off during the trip, and pay and expectations should always be agreed upon before the vacation begins.
Schedule: Since your family and your nanny will be in a new location, it is best to plan a schedule for everyone.  Having a schedule allows your kids to get the most out of their vacation, so time is not lost deciding what to do or figuring out how to get to each activity. A schedule also clearly defines when your nanny has time off and when she will be working—this takes away the possibility of any miscommunication between the nanny and the family about her time to herself.
Sleeping Arrangements: Whether or not you decide for your nanny to have a private place to sleep or a shared living area (like the foldout couch in the living room) is up to you and your nanny to discuss. However, a private space for your nanny to sleep allows for your nanny to get better rest, making her more energetic when caring for your children the next day. Whatever the decision may be, sleeping arrangements should be defined before the trip starts.
Vacation should be relaxing for the entire family (that includes you, Mom and Dad). Bringing along your family's favorite sitter ensures that everyone gets to have the vacation they deserve. TLC wants to help make your summer vacation is as relaxing as possible.
Call TLC for Kids today to find a travel nanny.