Posts Tagged 'babyproofing'
Accidents happen every day in people's lives, whether at home or out in public. While accidents can occur anywhere and to anyone, some of the most common and even the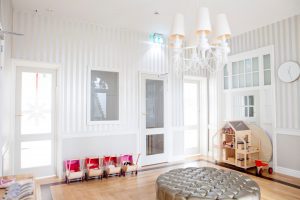 most dangerous ones occur at home. Below is a list of some of the most common accidents that take place in the home.
Falling Objects – If you have children then you know that once they start moving around on their own, they begin touching everything in the house. They can potentially knock stuff over, leading to broken objects or a bump on the head. To prevent this from happening, make sure electrical cords, table cloths, and any dishes are out of reach.
Trips and Falls – Obviously anyone can fall, but falls usually occur in young children and the elderly. You can help prevent trips and falls by making sure things get picked up off the floor, that cords are not running along the floor, and by making sure carpets are tacked down.
Look for any tripping hazard and deal with it right away. Often times if a young child falls, you can soothe them with kind words and hugs and kisses. However, if you notice that after a person falls they become drowsy, vomits, or loses consciousness, get medical attention right away. There could be something seriously wrong and it's best to get them checked out by a doctor.
Dangerous Furniture – Be careful with furniture that has sharp corners, like a coffee table. You can get covers to make the corners not so sharp. Also, be careful with glass top tables, especially if you have small children. Take stock of the furniture around your home to see that it's safe. Anchoring large, heavy furniture to the wall will help prevent you from getting pinned under these objects, especially small children. When hanging a TV on the wall, make sure it's well secured and wires are tucked away.
Sharp Objects – Beware of these, not just when you have children around. When you wash knives you want to make sure you put them away properly, so that when you reach for something you don't accidentally cut yourself.
Getting Burnt – Hot drinks and foods are the most common thing to cause burns and scalds to children under the age of five. Of course children should be kept away from the oven, open flames, and irons (anything hot). Also, make sure the temperature on your water heater is not set too high, to help prevent scalding burns in the bathtub. You should not have it set any hotter than 120 degrees F (49 degrees C).
The most common ways that adults get burnt is when cooking and straightening hair. All burn wounds should be held under cold running water for a couple minutes. The best way to cover a burn to prevent infection is by covering with plastic and taping down.
Poisoning – Most poisoning incidents involve medications and household products. It's important that these things are kept out of reach of children and anyone you feel may want to use it to intentionally cause harm to him- or herself.
When it comes to the health and happiness of our home and loved ones, we want to take all precautions possible to prevent injuries. If an accident does occur, though, it's vital to know what to do.
TLC For Kids, Inc. has been St. Louis' premier nanny and babysitting agency for over 30 years. TLC For Kids' dedicated staff is ready to assist you in finding nannies, tutors, newborn care specialists, sitters and more.  We serve St. Louis, Atlanta and Florida. Reach us at tlc@tlcforkids.com or 314-725-5660
A number of great tools and products are on the market to help make your home as safe as can be for your new baby. By the time baby is six months old, he will likely to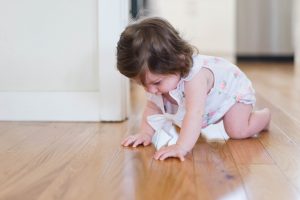 exploring the home is his own way. This gives you just a small amount of time to get anything and everything out of the way so that he can't hurt himself (or hurt your things) in the process. Today's baby proofing products are more adult friendly to use, but there are often better choices available than those you may remember using in the past.
Get Down On Your Knees
The best way to find potential problems within your home is to see your home as your child does. Get down on your hands and knees and crawl around. Make a list of all the potential problems you expose your child. At this level, you will see electrical outlets, cords for televisions or lamps, small fringe or other small items on tables that can be picked up, thrown or put in their mouths. Look for corners on tables or other surfaces that are sharp. Look for stairs or places within the home they can get to as they crawl and later stroll around. This may include cabinets, closets and doors.
With a list in hand like this, you can start finding the solutions to your problems. Luckily there are many great products on the market that can help you to child proof your home without a lot of worry about expense or the difficulty in using your home as you would like to.
Child Proofing With Adults In Mind
Your baby's safety is the most important consideration but you do not have to compromise the ease of living you currently have. The following are some of the most important tools available to you to both protect your child while still have easy access to your home and things.
Safety Latches: Perhaps you have drawers and cabinets that baby can get into. It is important to keep these locked so that your child can't get into them and access poisonous chemicals and medications. Latches are available that can be attached to these cabinets (with minimal if any damage to the cabinet itself) You will want to buy latches that are durable can handle the pulls that your child is likely to do to them. Still, many of these products are very easy to install and easy to use.
Corner Protection: As you crawled around you may have bumped into the corners of tables and chairs along the way. Either remove those with a point from the area or they should have a corner bumper installed on them. These will soften the edge and allow the child to bump into them with little or no effect. Most are widely available for just a few dollars. Choose bumpers that stay snuggly in place.
Outlet Covers: One of the most effective ways to prevent baby from being hurt is with outlet covers. A package of 20 or more can cost just a few dollars. These plastic covers are in the sockets throughout your home, keeping fingers out of the outlet. Parents can easily remove them and replace them when the outlet is in use.
Safety Gates: Older models of safety gates were hard to put in place and often were cumbersome to deal with. Newer models make getting through them must faster and safer. Protecting baby from stairs and areas of the home that are too dangerous is one of the best ways to child proof your home. These gates are available in a range of sizes and styles to accommodate virtually any home's design.
There are many other things to add to your home to child proof it. You may wish to add locks to doors to rooms where you do not want your toddler to venture. Every home should have carbon monoxide detectors and smoke alarms installed in them. Be sure to secure all items on tables safely or otherwise remove cords that could cause an item to fall on the child.
There's a lot to do but by making a few simple changes to your home you will successfully protect your child from all the problems that usually affect children. Since thousands of children end up in the hospital each year due to injuries or poisonings at their home, don't overlook the safety in child proofing.