Posts Tagged 'After school nanny'
Back to school is right around the corner. Have you considered your child care needs?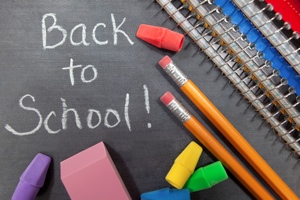 Thanks to HomeWork Solutions for this insight into hiring an after school nanny. 
Your children are in elementary school full time and you and your partner are working full time. After school childcare is a priority. Your son wants to participate in an after-school computer program once a week, and your daughter wants to play fall soccer. Mom and dad have demanding jobs, and just getting a healthy dinner together can be a major challenge. You wonder, are there after school nannies?
Yes, many families turn to after school nanny care.
While there are certainly candidates looking for long term part time nanny positions, families find it can be challenging to hire reliable part time help. You don't want to hire a part time nanny who is working for you until a full time opportunity comes along. Experts agree,  the more hours offered the better, and the more competitive the pay the better.
Many families look to college students but be aware their availability may change semester to semester.
You will still need coverage for school closures, teacher work days and when child is sick – the after school nanny may or may not be flexible enough to help here.
The professionals at TLC Family Care personally assist nannies, babysitters and families in St. Louis, Atlanta, Chicago, Nashville, Memphis, Charlotte, Miami and Orlando to find the right childcare arrangement. Our mission is to provide a safe and personalized  approach for families and caregivers to connect with each other that is not an internet search. TLC has worked with families, nannies, sitters, newborn care providers, and tutors for over 35 years and looks forward to working with you! To find great nanny and babysitting jobs visit us at tlc@tlcforkids.com or Call 314-725-5660.
Although summer has just begun, families are already searching for after-school care for their children.
Some may think an after-school nanny position is just picking up the kids from school and taking them home for the evening. Yes, day-to-day tasks are part of the job, but being an after-school nanny is much more fulfilling than being a chauffeur.
As a former after-school nanny, I got to become an integral part of the family's life. After I picked up the kids from school, we would come home and enjoy an after-school snack. While the kids snacked on fruit and crackers, I would get to hear about the most exciting parts of their day: the new books they read at school, what happened on the playground, and if anyone disrupted class (believe it or not, elementary school kids have a lot of gossip). After snack, we would start doing homework. During homework time, I got to strengthen my bond with the kids. They were looking to me for guidance and trusting that I was leading them in the right direction, and I got to learn what excited them about learning and what they struggled with (If you are going into elementary education, or any other field involving working with kids or teaching, this job is an excellent resume builder). On the days the kids had ballet practice, I would go to practice with them. Like homework time, this strengthened my relationship with my kids because I got to see them doing what they loved. If the kids didn't have homework or practice, we would come from school and play, read, or make arts and crafts. Other than getting to bring out my inner kid and have fun, being an after-school nanny also included picking up the toys, and occasionally helping prepare dinner. This was the perfect job for me during my beginning days of college—it allowed me to go to my morning classes, and I was off work early enough to finish my homework (and have a social life).
Like I said, this is an especially great job for students, or anyone else who has free time in the afternoon. The hours needed for an after-school nanny are usually 3pm-6pm, or 2pm-6pm. Pay is typically between $12-$15/hour.
If you are an energetic, caring, and responsible individual looking for an after-school nanny position, you can apply today.
By Brooke Angel 
The Evolution of the Afternoon Family Assistant
Better known as After-School Nannies, Family Assistants can do wonders to make life easier for your family. Life is supposed to get easier for us when our children start school, right? Wrong! It gets much more complicated. When my children were small, I never realized how many different activities and things needed to be done between 3:30 and bed-time. They need to be at different places after school, every day of the week. I often find myself taking my lunch-hour from 3:30-4:30 PM so I can shuffle my kids around from place to place. Then when my husband and I get home from work, we are trying to make dinner, supervise loads of homework, run to music lessons with one and soccer practice with the other, attend school functions, and it goes on and on! I only have two kids. I can't imagine how it would work with three or four kids, even in families where there are not two working parents. It is no wonder parents are exhausted and overwhelmed.
TLC for Kids has been finding nannies for families for over 25 years, but we have only recently seen a huge increase in the demand for family assistants after school. These nannies are becoming invaluable family assistants, alleviating the stress of busy families when they need it most: from 3 PM – 7 PM! The family assistant, picks up kids from school, provides transportation to activities, lessons and appointments, gets the kids started on their homework, walks your dog, empties your dishwasher, throws in a load of laundry and can start dinner. Some may offer special skills in art, foreign language, sports and music.
Plenty of moms used to hire a sitter to play with the kids while she prepared dinner, but today's families need more. Clients used to call TLC for Kids for After-school Nannies because they needed someone to pick their kids up from school and supervise them until parents could get home for work. Now, After-school Nannies/Afternoon Family Assistants are becoming an integral part of the family and provide so much more!
Afternoon Family Assistants are generally college students looking for a job that will fit with their class schedule. More often than not, our Afternoon Family Assistants are studying education and eager to put their education to work to help your children with their homework, teach them organizational skills and get them into a good routine for effective homework habits and study skills. Typical hours for Afternoon Family Assistants are any combination of M-F from 2:30/3:30 pm – 6:30/7:30 pm. They are generally flexible to work on school holidays, stay overnight if you have to travel, pet sit when your entire family travels and even work for you more hours in the summer when everyone is out of school.
So, if you are a parent like me, you may find an Afternoon Family Assistant a huge asset to the family; fewer battles over homework with the kids, more time for each individual child, less stress in your marriage, and time to breathe. If you are a student, an empty nester, a retiree looking for a great part-time job, an Afternoon Family Assistant job might be just what you are looking for!
Here's a list of the various AFA responsibilities you may benefit from.
Pick up children from school
Take to after-school activities
– sports practice
– tutoring/Kumon
– music lessons
– religious school
Homework
– get kids to start homework before dinner
– teach good study skills
– help your child learn
– supervise musical instrument practice
Run errands
– grocery store
– target
– dry cleaner
– Walgreens
– library
Start Dinner
Help with homework
Do a load of laundry
Empty the dishwasher
Sports
-practice sports
-teach kids to ride a bike, skate, etc.
– supervise active, outdoor play
Supervise/help kids with household tasks
– emptying out their backpacks
– supervising their chores
– keep them away from the TV!