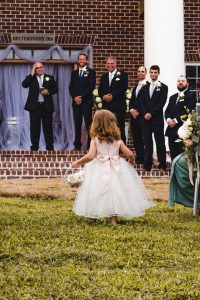 Wedding season is almost upon us! Many parents often face the dilemma of what to do with their children when it comes to wedding season, especially when kids aren't invited  to  attend the ceremony.  Adding to that concern is when families need travel for destination weddings with kiddos in-tow. But now wedding sitters gives parents a way for their little ones to be included in the  big day without the worry of tantrums or distractions during the event. TLC Nannies and Sitters provides special wedding babysitters and in-room hotel sitters. TLC sitter's  make the experience both safe and fun for the kids. This service has become almost a norm for millennial weddings, but I can see why it's so popular – no one wants a toddler screaming through the service! Weddings are such beautiful events, and we're glad that people are finding ways through the site to make sure no one misses out.
TLC recently provided five sitters at the History Museum in Forest Park. The bride was so thankful to get everything arranged ahead of time, and the kids enjoyed their own dinner and some fun games while the adults had their fun in another room. The parents were so happy to be able to relax and dance while they knew their kids were well cared for.
However, some parents feel better booking their own one-on-one sitter in their hotel room so they can go to sleep at their normal time. This is especially important with babies. TLC sends hotel sitters to the hotel room, where they can ensure a quiet bedtime, and mom and dad can stay out as late as they like!
Whatever your wedding child care needs, TLC has you covered. Give us a call today and learn more.
TLC For Kids, Inc. has been St. Louis' premier nanny and babysitting agency for over 30 years. TLC For Kids' dedicated staff is ready to assist you in finding nannies, tutors, newborn care specialists, sitters and more.  We serve St. Louis, Atlanta and Florida. Reach us at tlc@tlcforkids.com or 314-725-5660.
Spring Break is a fun, and busy, time of the year! Whether you are going out of town for a warm getaway, or having a stay-cation  TLC for Kids can help you with your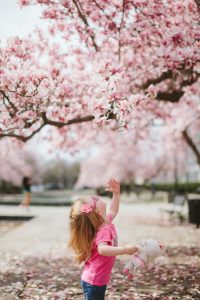 Spring Break needs.
Lots of families go on vacations for Spring Break. But not every vacation is inviting for your four-legged friends. Instead of taking your family pet to a pet daycare, have a sitter come to your home. Your pet will receive the same attention as if you were home with them. And a TLC sitter can do more than just watch your pet. They can also stay at your house to keep everything safe and allow you to enjoy your vacation without worrying.
Did you know TLC sitters are available to travel with your family on vacation? Families often fill their vacation schedules with activities for the kids. But TLC for Kids recognizes parents need a vacation for themselves, too. Bringing a TLC sitter or nanny a long gives parents the flexibility to see places they are interested in, have quiet meals at adult places, and know their kids are being cared for by someone they trust and their kids are comfortable with (remember you can request your favorite sitters anytime you need a TLC nanny).
If your kids are out of school for the week, but you still have to work, don't worry! With TLC for Kids, you can hire a nanny for the entire week. Our sitters can come to your home with activities to keep the kids entertained while they are away from school. TLC sitters also have reliable and insured forms of transportation, so the nanny can take your kids to places around the city or to and from their practices/school events.
TLC For Kids, Inc. has been St. Louis' premier nanny and babysitting agency for over 30 years. TLC For Kids' dedicated staff is ready to assist you in finding nannies, tutors, newborn care specialists, sitters and more.  We serve St. Louis, Atlanta and Florida. Reach us at tlc@tlcforkids.com or 314-725-5660