Keeping in Touch when Parent/Children Dinner Schedules Always Don't Mesh 
Having a family dinner is one important part of being a family. A family dinner gives a child a routine, a safe place and a warm meal together with loved ones. But what can you do if your dinner schedules do not match up? How can you keep in touch?
Many parents do not know what is going on in their teenager's lives for several reasons. Most families discuss the day at family dinner. If your schedules do not allow dinners you will miss this opportunity. Often time's schedules are filled with errands, sports practices, music lessons, and meeting friends. If you additionally work late or your work is second shift you might not have many chances to see your children.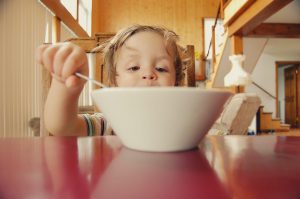 To improve the way you stay in touch you can try anyone of the following solutions. If you do not have time for a family dinner because of scheduling extracurricular issues, go ahead and try to tackle that schedule. Look at what is holding you back from family dinners and try to reschedule these events. Of course you cannot reschedule all the things planned for that week, but maybe a few nights a week you can get together and have a family dinner. When you do so, make sure your children know why you are changing the schedule and why you think it is important to have a family dinner. During these family dinners, talk to your children, discuss the day, the week, the upcoming events and especially if they have any issues or problems.
If you cannot get many of these family dinners going because your schedule is just bursting full, there are other ways to stay in touch with your children. Every morning, everybody comes through the kitchen, has breakfast, take the time and talk to them. This is the perfect half and hour to get in touch and find out about your children's interests.
If you are the driver to school, get a chat going don't let them plug their mp3 players or iPods in their ear, do not let them use their cell phones to talk to their friends. Start up a conversation with your kids. Find out about their school days, anything that is going on. If you are the driver you have the opportunity every time you drive your children to stay in touch, to be connected to them.
When they are home at night, get together for social interaction like playing board games or just sitting together and have a chat. It does not need to be dinner to talk to your children. Any time that they are around you is a good time.
Oftentimes, children do not want to spend all this time with their parents or do not want to talk about their lives with their parents. But when children regularly talk to their parents and a good connection exists, keeping in touch can be easy. The more you are in touch with your children, the better are the chances that you find out about problems early. You can help redirect them with early relationships, sliding grades, drugs, alcohol and much more. Parents' involvement in children's life's and education helps getting your children on a successful path. Use any and all times to talk to your children. Even though you want to talk to your children and know everything that is going on in their life, be respectful and do not overdue it. Teenagers are at a developmental stage where they want to find their identity away from the parents, therefore staying in touch can be difficult and when tried to hard, the contact can actually rather be lost than saved.
The professionals at TLC Family Care personally assist nannies, babysitters and families in St. Louis, Atlanta, Chicago, Nashville, Memphis, Charlotte, Miami and Orlando to find the right childcare arrangement. Our mission is to provide a safe and personalized approach for families and caregivers to connect with each other that is not an internet search. TLC has worked with families, nannies, sitters, newborn care providers, and tutors for over 35 years and looks forward to working with you! To find great nanny and babysitting jobs visit us at tlc@tlcforkids.com or Call 314-725-5660.