Helping your Preschooler with Separation Anxiety
It is common for kids, especially preschoolers, to suffer from separation anxiety. Separation anxiety is hard on both the child and the parents. Trust me I know, I have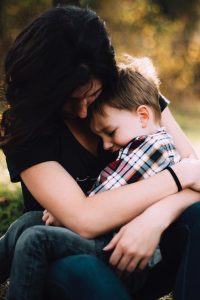 lived through it. Whether it was taking my children to school, a birthday party or a leaving them with a babysitter they cried. Leaving them was hard but leaving them when they are crying was even harder. Thankfully, I don't have these problems anymore. Now when I leave them with a TLC babysitter they wave goodbye with a smile on their face and start playing.
Here are some tips from Dr. Laura Horsch , a child psychologist in Menlo Park, California on helping your kids deal with separation anxiety.
1. It's important for parents to keep their morning goodbyes consistent and short. "Lingering in response to crying or tantruming may inadvertently reinforce those behaviors," explains Horsch. The rule of thumb in such situations is to strive for a short goodbye process.
2. "Parents are encouraged to prepare their children for what to expect, acknowledge their child's feelings, engage their child in a goodbye ritual (for example, hug, wave, etc.), and reassure their child that they will return," she says.
3. And it's crucial for parents to talk openly with their children about their feelings. Read a book about kids going off to school or Mommy going to work and then discuss with your child. And remind them that Mommy or Daddy will always come back to get them.
Horsch reminds parents that being tearful before mom or dad leave is common and natural. "Remember that these challenges are likely a normative part of healthy child development. These experiences are part of a child's building resilience and emotion regulation."
And she adds that there is almost always a silver lining: "Most children calm down quickly and enjoy their day shortly after their parents' departure."
To read the complete article and interview with Dr. Horsch click here.
The professionals at TLC Family Care personally assist nannies, babysitters and families in St. Louis, Atlanta, Chicago, Nashville, Memphis, Charlotte, Miami and Orlando to find the right childcare arrangement. Our mission is to provide a safe and personalized approach for families and caregivers to connect with each other that is not an internet search. TLC has worked with families, nannies, sitters, newborn care providers, and tutors for over 35 years and looks forward to working with you! To find great nanny and babysitting jobs visit us at tlc@tlcforkids.com or Call 314-725-5660.