Entertain the Kids For Free this Summer
We are always on the lookout for free entertainment. Not only is it financially beneficial, but it also benefits the kids and our family. I have friends whose kids are not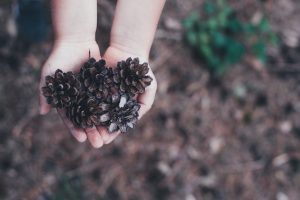 satisfied unless they are "being entertained" usually at one of those hideously expensive theme parks where you must pay to get in and then spend a fortune on treats and eats. However, free entertainment stimulates their minds more and tires them out if they enjoy it. If they are simply distracted by rides and toys they switch off and then lack enough imagination to entertain themselves if you need them to for a time.
Take a nature walk. Grab a couple bags and a picnic and create a scavenger hunt of things to find. Start your walk and see how many different things you can find.
When we have done this in the past, we have brought home bags full of moss from the trees, different twigs, berries and nuts, various leaves and flowers, small stones and feathers. Whatever you can find you can collect. Let your child get interested in their surroundings and really look to see something new.
When you get home get a large piece of paper – old paper grocery bags work well, rolled paper, etc., and some glue and see what scenes you can make from what you have collected. Younger children will enjoy sticking things on randomly and maybe doing a bit of coloring around it as well. Older children could try and make a picture out of the things they have in the bag. Use your imagination. It is great fun and can use an entire day if you want it to.
If your child is older/more enthusiastic about their surroundings then why not see if you can name the plants/birds, either while you are out or when you get back. It can be as much of a learning experience as you want it to be, but you can be sure that they'll enjoy doing it.
The professionals at TLC Family Care personally assist nannies, babysitters and families in St. Louis, Atlanta, Chicago, Nashville, Memphis, Charlotte, Miami and Orlando to find the right childcare arrangement. Our mission is to provide a safe and personalized approach for families and caregivers to connect with each other that is not an internet search. TLC has worked with families, nannies, sitters, newborn care providers, and tutors for over 35 years and looks forward to working with you! To find great nanny and babysitting jobs visit us at tlc@tlcforkids.com or Call 314-725-5660.