Summer Safety Tips for Children with Special Needs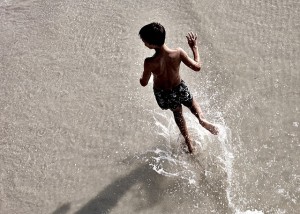 Summertime safety is a big concern for most parents, simply because many children get long breaks from school and are either home all day or with a caregiver. During the school year, it's comforting to know your child is safe in a classroom with a competent teacher, but during summer months, it can be difficult not to worry. When your child has special needs, that worry is magnified tenfold.
It takes a little planning, but it is possible to have a relatively stress-free summer along with your child. With some preparation, communication, and careful planning, you can figure out a way for your child to be safe and have fun at the same time. Here are some of the best tips.
Summer Nanny
If your child will be with a nanny during the day, it's important to maintain communication with them at all times and let them know what to expect at the beginning of each day. If they'll be taking your child outside the home–to a park or playground, for instance–you might consider making a visit there first to check out the equipment and to see what sort of surfaces there are. Playgrounds with mulch are much preferable to those with gravel or concrete.
Keep a contact list for the nanny with detailed instructions on what they need to tell a first responder about your child's medical needs should an accident occur. This includes any allergies, your child's official diagnosis, and any medications they are taking.
Make sure to communicate to the nanny that being well-rested is important when they are spending time with your child. The benefits of a good night's sleep are invaluable, whereas too little sleep could negatively affect their ability to function rationally and quickly.
Outdoor safety
Teaching your child how to be safe outside is imperative for summer months, and this includes water and pedestrian safety. Educating them about crosswalks, how to look both ways for vehicles, holding hands before crossing, and staying away from parked cars will go a long way in giving you peace of mind when they aren't with you.
For water safety, consider enrolling your child in a swim class. Many children on the autism spectrum love the feel of water, so it's especially important to teach your child how to stay safe when swimming. Always drain kids' pools after use and consider installing motion sensors near in-ground or large above-ground pools if you have a child who wanders.
Always have your child use a helmet and knee/elbow pads when they are using any equipment that moves, such as a bike, scooter, or roller skates. Make sure the helmet and pads fit well and are in good shape.
Watch the heat index
Many children with special needs have a decreased tolerance for heat, so it's important to follow the weather reports and prepare. Dehydration can occur quickly and with little warning, but some signs to look for are headache, nausea, cramps, dry mouth, irritability, fatigue, and few trips to the bathroom. Urine will be dark in color. If your child has any of these symptoms, get them into a cool, shady spot immediately and give them water to drink. A cool washcloth on the back of the neck can help if one is available.
Summer can bring lots of things to think about, but with a little bit of planning and good communication, you can make it a fun time for everyone involved.
TLC for Kids has caregivers who have experience working with children who have special needs. To learn more about TLC for Kids visit the website at tlcforkids.com
Thank you to our guest writer Sean Morris!
Sean Morris is a former social worker turned stay-at-home dad. He knows what it's like to juggle family and career. He did it for years until deciding to become a stay-at-home dad after the birth of his son. Though he loved his career in social work, he has found this additional time with his kids to be the most rewarding experience of his life. He began writing for LearnFit.org to share his experiences and to help guide anyone struggling to find the best path for their life, career, and/or family.
The professionals at TLC Family Care personally assist nannies, babysitters and families in St. Louis, Atlanta, Chicago, Nashville, Memphis, Charlotte, Miami and Orlando to find the right childcare arrangement. Our mission is to provide a safe and personalized approach for families and caregivers to connect with each other that is not an internet search. TLC has worked with families, nannies, sitters, newborn care providers, and tutors for over 35 years and looks forward to working with you! To find great nanny and babysitting jobs visit us at tlc@tlcforkids.com or Call 314-725-5660.