Creating Family Traditions
What are some good ideas for creating family traditions? Here are some ideas based on the holiday. These can be useful to get you started but remember that your own family traditions can be whatever you want and they don't have to be centered around a holiday at all. Part of the fun of a family tradition is that it is yours and you can do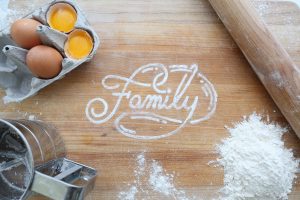 whatever you want.
• Create your own special day or holiday such as "unbirthdays" or "family day"
• Never go to bed without saying I love you
• Have a special birthday meal whenever a family member has a birthday
• On Saturdays, everyone cooks breakfast together
• Have a monthly movie day where you watch movies that explore traditions
• Sing a special birthday song made up by the family
• Keep a family journal and let everyone write in it
• Make a scrapbook for every family vacation
• Always eat dinners together as a family and talk about your day
• Take turns choosing topic of discussion at dinner
These are just some ideas for creating family traditions. You can use these to boost your own ideas and be sure to ask your family members to think of their own. You can have everyone write down their ideas for traditions and then vote as a family on the ones you want to make happen.
Ideas for Passing on Family Traditions
When it comes to passing on family traditions, there are many ideas here as well. The most important thing to remember is to remain consistent. It's important to do something over and over again each time to become tradition. If your family does not seem enthusiastic about it right away, you will have to help motivate them by being consistent.
For example, hold an event every year at the same time and continue to encourage the family to participate. Remain positive about it even if others do not and always continue even if only a few show up. By doing this consistently and with enthusiasm, others will begin to join in and the tradition will continue. As soon as all parties give up and miss an event, the tradition dies along with any enthusiasm to do it.
Holiday Traditions
Here are some holiday traditions that we enjoy and might help you get started:
• For Easter, color eggs together or have an Easter egg hunt
• Volunteer at a homeless shelter for Thanksgiving or Christmas
• Collect or make an ornament each year at Christmas
• Have Thanksgiving dinners together with everyone helping to make a dish
• Have the children dress up as pilgrims and Indians on Thanksgiving
• Re-enact holiday events or perform a small skit as a family
• Act out the Christmas story
• Make cookies and milk for Santa
• Leave shoes outside for "baby New Year" to fill with goodies
• Create family New Year resolutions together
These ideas should help you with creating and passing on family traditions of your own. Whether you have your own family now or hope to one day soon, we hope that you will explore these options and ideas for family traditions. The memories you will create together as a family will last a lifetime.
The professionals at TLC Family Care personally assist nannies, babysitters and families in St. Louis, Atlanta, Chicago, Nashville, Memphis, Charlotte, Miami and Orlando to find the right childcare arrangement. Our mission is to provide a safe and personalized approach for families and caregivers to connect with each other that is not an internet search. TLC has worked with families, nannies, sitters, newborn care providers, and tutors for over 35 years and looks forward to working with you! To find great nanny and babysitting jobs visit us at tlc@tlcforkids.com or Call 314-725-5660.