Babysitting in the Pandemic
This month we want to give a special shout-out to our TLC Sitters in Charlotte, NC who have gone above and beyond during this pandemic. Our sitters have worked and supported families, so that essential workers to go to work on the front lines in their communities.
We asked one TLC Hero Chioma Onukogu about her experiences: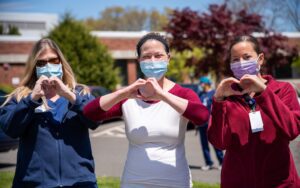 Did you feel like you were at risk going into the families home?
For the most part, not really. I wore a mask, used hand sanitizer before and after my assignments, and made sure to disinfect anything I brought with me. Most families took their own precautions by sometimes choosing to wear masks in their houses or were okay with mine.
Were the families grateful for the childcare you provided?
I think so! A lot of the folks I've worked with are healthcare or essential workers themselves so my assistance helped them get to work without too much worry or even gave them some space to rest when they came home! Sometimes parents need a break too and with school being online for so long, I could tell many parents were really happy to get it (childcare)!
Do you feel like you made a difference in the lives of those families?
I hope so! I always try to make sure the kids have fun while I'm there and always make sure to give them my undivided attention the whole time I'm with them. With so much closed down, it really helped for children to have an outlet this year. As for infants, I'm one of the few "strange faces" they've seen during the pandemic. Because of how impactful that might be, I really try to make my interactions as joyful and calming as possible.
TLC wants to thank Chioma and all the back-up care sitters in NC who helped families with childcare during the pandemic.
The professionals at TLC Family Care personally assist nannies, babysitters and families in St. Louis, Atlanta, Chicago, Nashville, Memphis, Charlotte, Miami and Orlando to find the right childcare arrangement. Our mission is to provide a safe and personalized approach for families and caregivers to connect with each other that is not an internet search. TLC has worked with families, nannies, sitters, newborn care providers, and tutors for over 35 years and looks forward to working with you! To find great nanny and babysitting jobs visit us at tlc@tlcforkids.com or Call 314-725-5660.