5 Steps to Kick Off the New Year Right in Your Job
We've bid farewell to 2020 and eagerly look forward to what 2021 will bring. Now that we're in the New Year, this is a great opportunity to take a look around your personal and professional surroundings and make some excellent changes to build and enhance your nanny job.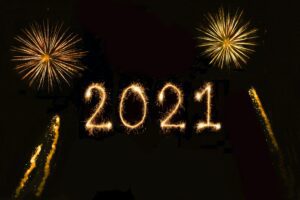 Take stock of your surroundings. All those new toys and books that arrived but nowhere to put them? Discuss with the parents a plan to "Keep, Donate or Trash" old items and create new play spaces, e-learning spaces, reading nooks and quiet space. Get the kids involved and make it a special, fun project.
Do you struggle with the day-to-day communications? Consider a daily diary for writing out your day, concerns, observations, events and more. Our Nanny Diary is a great tool made by nannies for nannies for this exact purpose!
Review time. When was the last time you had a review with your employers? What is working? What isn't? Set up a time to sit down and discuss. This handy check-list can help address certain areas of concern or prepare for what's coming up.
Make self-care a priority. If we learned anything from 2020, it's that we do so much in the day-to-day, that we often let our own personal care come last. Make self-care a priority for 2021. Take up a new hobby. Pick a day to unplug – literally. No phones, social media. Read a book, binge on Netflix. Reconnect with friends and family. Send cards with handwritten notes. Make a phone call vs texting or emailing to a loved one. And when it's safe to do so, book a day at the spa, a weekend away with your besties, or fly in and surprise a loved one. Make it a point to do something for yourself each month and make yourself a priority in 2021.
Invest in your education. Whether you'll be staying for a long while or looking for a new job this year, continuing education is vital to a nanny's career.  Consider an online course, subscribe to Nanny Magazine for current news and articles. How about a webinar hosted by Zero to Three or NAEYC? Or check out the March INA one-day Summit.

According to the 2017 INA Salary and Benefits Survey:

Experience and education affect a nanny's hourly pay rate
+More experience and/or more education means higher hourly rate
+Those completing INA Credential Exam & INA Basic Skills Assessment get higher hourly rate
And don't forget … TLC Family Care is here to help you along the way with your job or job search in 2021.
TLC For Kids, Inc. has been St. Louis' premier nanny and babysitting agency for over 30 years. TLC For Kids' dedicated staff is ready to assist you in finding nannies, tutors, newborn care specialists, sitters and more in Atlanta, Charlotte, Chicago, Ft. Lauderdale, Jacksonville, Miami, Orlando, Palm Beach, Sarasota, St. Louis, Tampa and more!. Reach us at tlc@tlcforkids.com or 314-725-5660.