Helping Kids Get used to Masks
Whether you're preparing for kids to go back to school or you're taking them out in public, wearing a mask is recommended for everyone – even children. But getting them to keep them on while out or all-day in a classroom can be challenging and scary.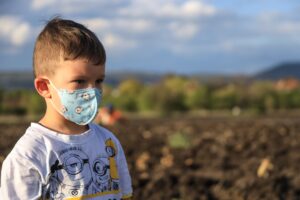 The CDC recommendations are as follows:
COVID-19 can be spread to others even if you do not feel sick. A cloth face covering helps prevent a person who is sick from spreading the virus to others. Appropriate and consistent use of cloth face coverings is most important when students, teachers, and staff are indoors and when social distancing of at least 6 feet is difficult to implement or maintain.
Cloth face coverings should not be placed on:
Children younger than 2 years old.
Anyone who has trouble breathing or is unconscious.
Anyone who is incapacitated or otherwise unable to remove the cloth face covering without assistance.
Appropriate and consistent use of cloth face coverings may be challenging for some students, teachers, and staff, including:
Younger students, such as those in early elementary school.
Students, teachers, and staff with severe asthma or other breathing difficulties.
Students, teachers, and staff with special educational or healthcare needs, including intellectual and developmental disabilities, mental health conditions, and sensory concerns or tactile sensitivity.
Additional information from KidsHealth provides info on WHY kids are afraid of masks, and offers tips to helping kids get used to wearing masks.
Finally, check out our Pinterest board for mask tips and some of our favorites for kids.
To assist with the current crisis, TLC is temporarily offering FREE MEMBERSHIP and DISCOUNTED AGENCY FEES to all Medical Professionals and First Responders. We know you cannot work at home and want to help you ensure you have solid care arrangements for your loved ones. Call TLC at 314.725.5660 to learn more and get started.
TLC For Kids, Inc. has been St. Louis' premier nanny and babysitting agency for over 30 years. TLC For Kids' dedicated staff is ready to assist you in finding nannies, tutors, newborn care specialists, sitters and more in Atlanta, Charlotte, Chicago, Ft. Lauderdale, Jacksonville, Miami, Orlando, Palm Beach, Sarasota, St. Louis, Tampa and more!. Reach us at tlc@tlcforkids.com or 314-725-5660.