5 Ways to Support Children and Virtual Learning
For many, the new school year is looking a lot different than what they expected. Virtual learning has become the new norm in many communities and households. Families are converting dining rooms into classrooms, and parents are learning new tech such as Zoom, Google Drive, Online Classrooms and much, much more. Kids are disappointed they won't be joining their friends in the classroom and on the playground. Meanwhile, you're working from home and struggling to manage your work and navigate through your child's virtual learning needs.
As we all adjust and maneuver our way through these new systems, there are ways you can support your child in the days ahead.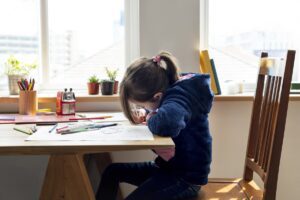 Get Organized. Create a system of calendar, color coding, even post-it notes. Many say writing things down helps them remember. Write assignments down on a calendar – when they are due, deadlines, etc. Keep it where everyone can see it.
Develop a System. Create a system where assignments come in and planned out, homework is turned in, logging in to the classroom, etc. Know that technical challenges will arise and not get upset when they do. We're all struggling. Each of you take a breath, step away and come back and figure it out together. Determine how to avoid in the future, what could you have done differently?
Make the Workspace Functional yet Comfortable. Don't have other projects or your own work invade your child's workspace. If you have multiple children, make sure each has their own designated space. Let them decorate or have one or two special items in view that provide comfort such as a favorite figurine, small stuffed animal, even a motivational framed quote or sticker. Don't have their workspace next to a high-traffic area of the house, such as the laundry room or front door. Frequent interruptions will definitely impact their learning. Check out our Pinterest board for some inspiration!
Create a schedule that works for all. While you'll probably have set days and times for the classroom aspect of school with their teacher, make sure your child is getting plenty of time to get up and move around, do supplemental learning such as virtual field trips or arts and crafts. Know that some days you may go off schedule. Take your cues from your child, and allow some flexibility during the challenging days. Maybe you both take a lunch break at the same time and make it part of your new daily routine.
Support each other. Provide encouragement when they do something well. Motivate each other to finish that assignment you've both been putting off until the last minute. While they are doing virtual learning, you're probably working from home. Find time to celebrate each of your accomplishments.
Finally, if you're finding you still need support, reach out to TLC. We can assist in finding you support for at-home learning or a private educator to work one-on-one with your child.
To assist with the current crisis, TLC is temporarily offering FREE MEMBERSHIP and DISCOUNTED AGENCY FEES to all Medical Professionals and First Responders. We know you cannot work at home and want to help you ensure you have solid care arrangements for your loved ones. Call TLC at 314.725.5660 to learn more and get started.
TLC For Kids, Inc. has been St. Louis' premier nanny and babysitting agency for over 30 years. TLC For Kids' dedicated staff is ready to assist you in finding nannies, tutors, newborn care specialists, sitters and more in Atlanta, Charlotte, Chicago, Ft. Lauderdale, Jacksonville, Miami, Orlando, Palm Beach, Sarasota, St. Louis, Tampa and more!. Reach us at tlc@tlcforkids.com or 314-725-5660.