Summer of FUN – 2020 Edition
Summer is looking a lot different than what we're used to. No camps, no outings, no day trips, no vacations. For many, you're stuck inside trying to entertain the kids.
Here are some great ideas to keep the kids busy in the kitchen …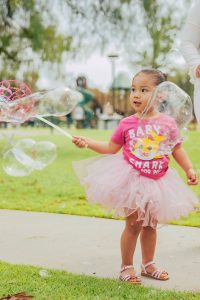 If you're on Pinterest, search Goop. Tons of recipes come up. I'm sure you'll find one to please your crowd.
How about some Peanut Butter Play Dough?
You will need …
Nonstick cooking spray
Bowl
¼ cup honey
¼ cup nonfat dry milk powder
6 tablespoons peanut butter
½ cup crushed crisp rice cereal
Spray the bowl with nonstick cooking spray. Add the honey and dry milk powder to the bowl and mix well. Add the peanut butter and mix until smooth. Stir in the cereal. Use as edible modeling clay.
Note: To serve as a snack, shape the peanut butter mixture into ½ inch balls and roll in the cereal. Dip into melted chocolate if desired. Store in the refrigerator.
For some fun in the sun consider letting the kids paint with pudding, shaving cream, or colored ice cubes .
Check out our Pinterest boards for Water Play, Beat the Heat, Summer Fun and many more!
What have you tried indoors or out with the kids to keep them entertained in the kitchen when it's hot?
To assist with the current crisis, TLC is temporarily offering FREE MEMBERSHIP and DISCOUNTED AGENCY FEES to all Medical Professionals and First Responders. We know you cannot work at home and want to help you ensure you have solid care arrangements for your loved ones. Call TLC at 314.725.5660 to learn more and get started.
TLC For Kids, Inc. has been St. Louis' premier nanny and babysitting agency for over 30 years. TLC For Kids' dedicated staff is ready to assist you in finding nannies, tutors, newborn care specialists, sitters and more in Atlanta, Charlotte, Chicago, Ft. Lauderdale, Jacksonville, Miami, Orlando, Palm Beach, Sarasota, St. Louis, Tampa and more!. Reach us at tlc@tlcforkids.com or 314-725-5660.
Portions of this article originally appeared on Regarding Nannies. Reprinted with permission.