Raising a Responsible Child
Babies come into this world with a functioning (but still developing) physical body. They have all their parts, and those parts work — sort of. Babies grow and develop physically without a lot of "help" from the adults in their world other than the adults providing food and shelter. But babies also grow intellectually, socially, emotionally, and morally, and growth in these areas requires a great deal more from the parents of the child. Food and shelter aren't enough.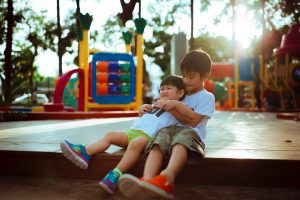 Here we are talking about teaching "responsibility." How many times have you heard, "It wasn't MY fault," "SHE did it," and all of the variations for declaring oneself not responsible. It's a natural human response not to want to be held accountable when bad things happen.
Teaching that there are consequences for wrong behavior is part of teaching responsibility. Children must not live in a "consequence"-free world. When they do wrong, there need to be consequences.
For example, when a toddler throws a toy in anger, the parent might pick the toy up and hand it back to the child once. If the child throws the toy again in anger, the parent must remove the toy and deny the child the pleasure of playing with the toy. Responsibility! Bad actions do not produce good results.
Children must be actively taught to be responsible for their own actions (or inaction's). He forgets his lunch today, and if you take his lunch to him, he is very apt to forget his lunch tomorrow. If he misses lunch, he'll likely remember his lunch forever more. Responsibility!
Teaching a child to step forward and accept responsibility for his or her actions isn't easy. There isn't a parent alive (or an expert, for that matter) who would claim that teaching responsibility is easy — but it IS necessary!
To assist with the current crisis, TLC is temporarily offering FREE MEMBERSHIP and DISCOUNTED AGENCY FEES to all Medical Professionals and First Responders. We know you cannot work at home and want to help you ensure you have solid care arrangements for your loved ones. Call TLC at 314.725.5660 to learn more and get started.
TLC For Kids, Inc. has been St. Louis' premier nanny and babysitting agency for over 30 years. TLC For Kids' dedicated staff is ready to assist you in finding nannies, tutors, newborn care specialists, sitters and more in Atlanta, Charlotte, Chicago, Ft. Lauderdale, Jacksonville, Miami, Orlando, Palm Beach, Sarasota, St. Louis, Tampa and more!. Reach us at tlc@tlcforkids.com or 314-725-5660.