"Mom! I had it first!"
"Mom! Make her get out of MY room!"
"Mom! She's BREATHING on me!"
Sibling rivalry when it is happening in your home isn't funny, but you will learn to laugh about it sooner or later — probably later rather than sooner. What can you do about sibling rivalry? Is there anything that CAN be done about sibling rivalry?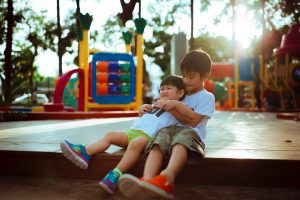 "Sibling rivalry" has been around a while. It's the term that best describes the situation between Cain and Abel in the Bible — and we all know how THAT turned out.
Sibling rivalry is natural. Siblings usually swing back and forth between "best friends" and "sworn enemies." Sometimes when siblings grow up, they do bury the hatchet and actually become friends — sometimes, but not always.
The only thing that parents can do about sibling rivalry is to be as fair as possible when dealing with disputes and competitions and to stay out of the dispute as often as possible. Let the kids work it out unless the solution has blood involved.
It's best to include the kids in the resolution of a situation rather than just imposing your will or making your "best judgment." The first thing to do is to separate the kids and give them both time to calm down.
The second thing to remember is that it does take "two" to make a fight. One child cannot fight without an opponent, and the odds are that both parties to the disagreement bear some responsibility. Blaming the older child "because you are the oldest and should know better" is unfair and gives license to the younger child to annoy and aggravate the older child.
Try to turn a sibling rivalry dispute into a win/win situation. Look for a solution that gives both parties something. Teach the kids to negotiate and compromise. It could keep you from having to play referee so often.