The Benefits of Unstructed Playtime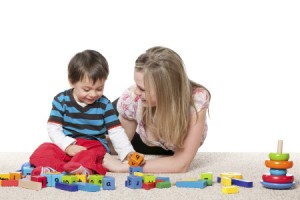 I recently came across an article about the importance of free play for kids. The article stressed the importance of play for kids and how it links to their educational, social and physical development.
It's clear that playing helps a child's physical development. Gross motor skills are strengthened when kids have time to play and run around. But, did you know that play time can also improve a child's communication and literacy skills? Play time on a playground with other kids or with a nanny teaches a child how to communicate and share. Play time also teaches kids how to interact with other people and read social cues. Woodbury School is showing kids how to turn imaginative play into plot lines. The schools teachers write down the 'stories' the kids are telling. The teachers read the stories back to the kids and then they learn to read them to each other.
The article goes on to say that young kids today have less and less time to play freely because of the emphasis on academics and structure in daycares and preschools. Hiring a nanny to take care of kids in a home instead of a structured daycare can give children more time to play freely. Nanny's are able to give children one-on-one play time that can grow a child's imagination.
To read the article in it's entirety click here.
To learn more about hiring a nanny for your family visit the TLC for Kids Website.