Hiring Qualified Nannies with TLC for Kids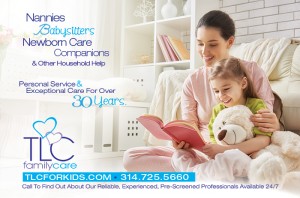 The one-on-one care that a nanny provides gives children a deep sense of self-worth and security while giving parents convenience, flexibility and peace of mind.
TLC for Kids extensive recruiting and screening process is always in motion and we always have a pool of qualified, experienced nannies. Our expert placement counselors will work with you to understand what is uniquely important to your family. This ensures that we only present you with candidates who meet YOUR desired qualifications and allows you to focus your attention on choosing that special nanny who will make a positive impact on your children and your family.
TLC only represents experienced caregivers with verifiable, good references who are warm, sensitive and alert to the needs of children. Our extensive application and interview process allows TLC and parents to carefully view the caregivers' child care experience, education and work history, personal lifestyle and child care philosophy. Our child care questionnaires and oral interview questions help us to assess the caregiver's knowledge of early childhood development and their ability to make decisions concerning the safety of their charges.
With TLC your nanny search can be limited to only those candidates who meet your qualifications. We look forward to helping families find the nanny that will be just the right fit for their family.
TLC For Kids, Inc. has been St. Louis' premier nanny and babysitting agency for over 30 years. TLC For Kids' dedicated staff is ready to assist you in finding nannies, tutors, newborn care specialists, sitters and more. Reach us at tlc@tlcforkids.com or 314-725-5660