TOYS CAN BE MULTITASKERS, TOO!
If you have been to the toy aisles of your local EverythingMart lately, you know how overwhelming shopping for toys can be.  There are so many choices!  Do you choose based on age?  Gender?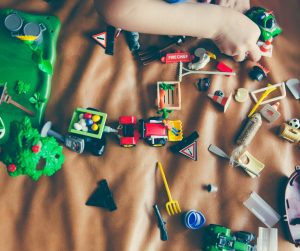 Television show or movie tie-in?  How in the world can you figure out how to best stock your playroom with toys that the kids will actually play with?  It is very disheartening to buy a toy that you're sure your child will love, only to have them play with it for a day and then shove it in the bottom of the toy box.   In this article I am going to share some tips for getting the most bang for your buck in the toy aisle!
There are many things to consider before bringing a toy into your playroom – especially if you are concerned with creating an atmosphere that is fun, supports your family's values, and promotes early learning.   The toy industry's marketing machine is a huge behemoth that will make you feel that if you love your children, you always have to be buying the latest and greatest buzzing, light up, battery-operated monstrosity. Don't get me wrong- some of those toys can be FUN!  There is certainly a time and place for them.
However, there are a few other things to consider when choosing a toy … read more from Nannypalooza.com